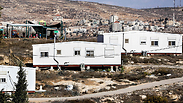 Netanyahu, Bennett reach compromise on Regulation Bill
AG still needs to approve agreement between coalition partners that would see the clause dealing specifically with Amona removed from the legislation proposal, allowing it to pass; Kerry at Saban Forum: 'Supporters of Regulation Bill don't want peace.'
Prime Minister Benjamin Netanyahu and Education Minister Naftali Bennett have reached a compromise that could pave the way for the approval of the Regulation Bill, which would retroactively legalize Jewish settlements in the West Bank built with government involvement on privately-owned Palestinian land.

As part of the compromise, the problematic Clause 7, which specifically addresses the issue of Amona, will be removed from the bill proposal.

John Kerry

The illegal outpost, scheduled for evacuation and demolition by December 25, 2016, will be moved.



"In such a case, the residents of Amona will remain on the mountain, but they'd have to move somewhere between dozens and hundreds of meters to a new location," an official from Bennett's Bayit Yehudi party explained. "Regulating the land will eliminate Peace Now's High Court petitions. The Regulation Bill regulates these lands so it would not be possible to petition against the communities in Judea and Samaria."

Another coalition official determined that if this compromise is approved by Attorney General Avichai Mandelblit, it would be the beginning of a de facto annexation of lands in the West Bank.

"This arrangement is better than everything we've ever dreamed of," the coalition official said, adding "If this deal is not approved—we'll be in a serious coalition crisis. The fate of the government and the fate of the settlement enterprise are in Mandelblit's hands."

The government plans to once again seek a postponement of the Amona evacuation—this time of 30 days—to allow time for the establishment of structures to absorb the outpost's residents.

Mandelblit has conditioned this on the complete overhaul of the Regulation Bill, particularly removing Clause 7 concerning Amona.

Meanwhile, Mandelblit is working to prepare a location dubbed "Amona North" as a temporary place of residence for the evacuated Amona families for eight months until the permanent location for their new home—on lands that haven not been claimed—is ready.

The attorney general is making use of a plan formulated 20 years ago by then-Military Advocate General Uri Shoham, who determined lands belonging to absentee owners can be used for a defined purpose over a short period of time. According to Shoham's legal opinion, the lands can be "leased" for no more than three years.
'We won't accept the destruction of a town in Israel'
But while Netanyahu was hammering out the details for the compromise with Bennett, 28 Likud activists urged him on Sunday to prevent the evacuation of Amona.
"We won't be able to accept the destruction of a town in the land of Israel," the activists wrote in a letter to the prime minister. "If the Likud implements the left-wing's policy, others will come and lead the country instead."
The activists reminded Netanyahu that "the right wing public made its voice heard at the polls, and this thanks to the great trust given to you. Thanks to this, we've achieved an impressive victory. And now we turn to you, Mr. Prime Minister, with the burden of proof on us to show that 'We did not evacuate, and will not evacuate.'"
They expressed "deep concern" for the safety of the public, adding "You have always been known for your great talents and your resourcefulness in dealing with every part of the establishment—including the justice system—and coming out with your dignity intact and without hurting the dignity of others. We are confident than this time you will also be able to find a way to keep Amona where it is, just as a way was found to keep the Bedouin in the Negev despite a conclusive court ruling."
Opposition MKs said on Sunday that the compromise reached between Netanyahu and Bennett was a "rotten deal" in which the Bayit Yehudi leader had agreed to concede on the legislation in return for hundreds of millions of shekels for the settlement enterprise.
Deputy Knesset Speaker MK Yoel Hasson claimed this was "an inappropriate use of state budgets as bribe money given to the settlers to preserve Netanyahu's government."
Supporters of Regulation Bill 'don't want peace'
Meanwhile, US Secretary of State John Kerry slammed the Regulation Bill on Sunday night, calling settlements a "barrier" for peace.
"Tomorrow night there'll be a vote in Israel, which will decide whether or not 54 of those illegal outposts will be legalized within months," he said at the Brookings Institute's Saban Forum. "That is in addition to some 31 that have already been either in the legalization process or legalized. So you're looking at 85 out of 100 that are about to be, quote, 'legalized.'"
He went on to note that "What's really concerning about what is about to happen is that many of these outposts, most of them, are built on what is considered to be Palestinian private land."
He conceded that settlements "aren't the reason and the cause" for the Israeli-Palestinian conflict, but added that "I cannot accept the notion that they don't affect the peace process, that they aren't a barrier to the capacity to have peace."
The right wing, he said, "that supports it (the Regulation Bill) openly supports it because they don't want peace. They believe it's the Greater Israel. They are pursuing a policy of greater Judeo Samaria, building out into the West Bank, because they believe it belongs to them. And they want it to block the peace because they want those places to belong to Israel. That's the history of the settler movement, my friends."
He supported his claims by quoting Bennett, who recently said that "this represents the end of the era of the two-state solution," in regard to the continued development of the settlement project.
Kerry further noted that "more than 50 percent of the ministers in the current government have publicly stated they are opposed to a Palestinian state and there will be no Palestinian state."
Despite that, Kerry clarified, the conflict has yet to reach its tipping point.
He also spoke about his relationship with Prime Minister Netanyahu, saying, "I have talked to Bibi Netanyahu more than 375 times in this term. That's only the public recording, because I was in the habit of picking up the phone and calling him at home or calling him here and there and just getting him eating. I've talked to him in those public transactions more than 130 hours. My wife accused me of having talked to him more than I've talked to her in these four years."
"I have traveled to Israel over 40 times or something extraordinary. I've met Bibi in Rome for eight hours at a time. I've met him in New York. I've met him in Israel, met him in Jerusalem, met him in Tel Aviv, met him everywhere. And Bibi and I are friends. We really are," he added, using the prime minister's nickname.