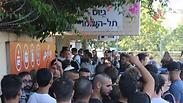 IDF induction center
Photo: Motti Kimchi
New bill seeks to further shorten IDF male service to 30 months
A year after the IDF shortened mandatory service for males from three years to 32 months, a new bill passes second and third readings in the Knesset to lower the length of service to 30 months; bill is meant to stimulate economy by sending more workers into the market at a younger age.
The Knesset Foreign Affairs and Defense Committee approved second and third readings for a shortening of compulsory military service for IDF soldiers to 30 months set to begin in 2020. As of last year, all males drafted for mandatory military service began serving 32 months, instead of three years.

The shortened service will decrease the amount of soldiers in the IDF by thousands every year in an attempt to further reduce the gap in service between men and women.

Male soldiers that choose to extend their service and serve extra time of up to 6 months can save the army up to NIS 50,000. Male soldiers who do not opt to extend their period of service can then enter the labor market earlier, thus lowering the age of entry into the market and increasing the GDP.

In January, Minister of Finance Moshe Kahlon announced a plan to increase efficiency in security forces. One of the most significant proposed moves is a new pension plan that seeks to save an estimated NIS 1.5 billion a year between 2020 and 2026.