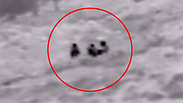 Molotov cocktail throwers thwarted
The Nitzan Battalion of the IDF Field Intelligence Unit arrested several Palestinians as they were preparing to throw Molotov cocktails at cars next to Highway 60.

The suspects allegedly were planning to lob the Molotov cocktails over the security fence at the cars below.

IDF stops Molotov throwers (צילום: דובר צה"ל)

They were arrested outside the village of Khader, south of Bethlehem.




The IDF Spokesperson's Unit put out a video showing the force identifying the primary suspect, while military lookouts alerted the force to two other suspects who were approaching the force. Those two suspects managed to run away and evade the force.

The spot is popular for Palestinians throwing Molotov cocktails at cars.






Meanwhile, the IDF Spokesperson's Unit said that the IDF - in conjunction with the Shin Bet and the Israel Police – arrested 10 suspects in the West Bank overnight. Six of the suspects were arrested on suspicion of planning nationalistically motivated terror attacks, and for taking part in violent demonstrations against Israeli security forces.

The IDF arrested two members of Hamas in the Balata refugee camp outside Nablus, and arrested two more in the village of Askar refugee camp, also in Nablus.