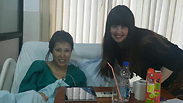 Japanese hiker saved by Israelis
A Japanese backpacker who was crushed by rocks on the Annapurna Circuit in Nepal was rescued by a group of Israeli hikers on Monday.

Akihu Sujiyama, 40, was injured when a rockslide fell on her while hiking the Annapurna Circuit. The rockslide caused her to break her leg with the bone protruding, and she began to lose blood rapidly. Israeli hikers in the area heard her anguished screams and ran to help her.


Upon arriving at her, they immediately applied a tourniquet, and were able to use a satellite phone in their possession to call a rescue helicopter. The Chabad emissary for the region, Rabbi Chezki Lifshitz, arrived with the helicopter as well.

The Japanese Consulate General to Nepal then went to the local Chabad house to give his thanks to the hikers who rescued the Japanese woman. The woman was evacuated to a hospital in Kathmandu.

"We thank the Nation of Israel," the consulate general said.

"(The Israelis) are heroes who didn't leave her side for even a second," Rabbi Lifshitz said. He received word of the incident via a Chabad situation room located in Israel.

"We extracted her from the area in the helicopter. Her situation was critical yet stable," the rabbi added.

Sujiama received life saving blood transfusions in the hospital in Kathmandu.

"She came to the hospital with a hemoglobin level of 4," said Hilik Magnus of Israel based Magnus International Search and Rescue.

"These (Israelis) are heroes and definitely saved her life. Israelis have a lot of value due to their military service. They kept their cool, and knew exactly how to treat her wound."

Sujiyama underwent life saving surgery and was able to have her leg saved.

During the Japanese Consulate General's meeting with Rabbi Lifshitz, he told the Chabad emissary that Sujiyama wanted to directly thank the Israelis who saved her life, and wanted to say that she "loves the Jewish people."

It turns out that Sujiyama had visited Israel five years prior on a work visit specializing in calligraphy, where she visited several Torah scribes in Jerusalem.