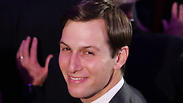 US tax records show that President-elect Donald Trump's son-in-law co-directs a family foundation that has donated tens of thousands of dollars to Jewish settlement organizations in the West Bank.

Trump has said Jared Kushner, who serves as a close adviser, could help negotiate a peace agreement between Israel and the Palestinians. The donations by Kushner's parents' foundation raise questions about Trump's previous statements in which he said that his administration would endeavor to remain neutral in any mediation efforts.

Kushner and his siblings direct the foundation with their parents.

Risa Heller, a spokeswoman for the Kushner companies, declined to comment on the donations to the settlement groups. She says the family is "extremely generous" and has given away over $100 million to charitable causes.