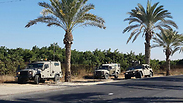 Vehicles during the exercise
Photo: Barel Efraim
The Southern Command held a drill Tuesday in and around communities near the Gaza Strip that simulated a variety of scenarios that included mass infiltration of Hamas fighters via tunnels, the sea and the air.

One of the extreme scenarios rehearsed concerned a special commando unit of Hamas fighters that would quickly infiltrate a southern city, such as Sderot, using motorcycles to kill and kidnap as many people as possible.

Video footage of the security drill (צילום: בראל אפרים)

As part of the drill, a school in the Eshkol Regional Council was cleared by IDF forces and community security officers, with students and staff quickly ushered onto buses and evacuated.

During the drill, forces from the IDF, Israel Police, Border Police, IAF, Navy, MDA, Shin Bet and Home Front Command all participated and cooperated.

The Gaza Division is operating according to a doctrine that the next attack by Hamas will occur without prior intelligence warning, as Hamas will attempt to project a picture of victory early on after surprising Israel before the IDF has a chance to mobilize reinforcements and maneuver.