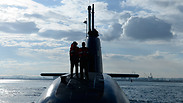 INS Rahav
Photo: IDF Spokesperson
Ministry of Defense's about-face on Iranian involvement in submarine deal
After initially claiming that they knew nothing of Iran holding 4.5% of the shares in the ThyssenKrupp conglomerate that is manufacturing submarines for the IDF, the ministry says that this has been known since 2004; Avigdor Lieberman says that many decisions were taken before he took the reins.
The Defense Ministry confirmed Tuesday evening that in 2004 it was made aware of an Iranian corporation which held 4.5% of the shares in the ThyssenKrupp conglomerate, from which Israel acquired submarines and warships for its Navy.

The admission, which came during remarks made to the Knesset's Finance Committee by Defense Minister Avigdor Lieberman when he announced that "the issue was known," came just days after his ministry denied having any such knowledge during the time of the transaction.

Last week, Yedioth Ahronoth, Ynet's print publication, discovered that Israeli money used in the submarine deal with ThyssenKrupp will fall into Iranian hands. ThyssenKrupp Marine Systems was contracted to build three submarines and four Sa'ar 6-class corvette warships for the Israeli Navy.

It later emerged that an Iranian government-owned foreign investment company (IFIC) holds close to 5% shares of ThyssenKrupp, a company which invests state funds in companies around the world. The Iranian involvement raises questions over the possible exposure of Iranian shareholders in one of the most classified projects in the IDF.

Lieberman told the Finance Committee, "Regarding the issue with Iran, I don't want to speak about this too much. The issue was known. Many things were decided before I got to the Defense Ministry, but at the end of the day whoever looks over the protocols—including the cabinet and the National Security Council—will see that this is not what it seems. The reality and the facts are far from what we hear in the media. In any event, it was known and it has no impact," he insisted. "The State of Israel had no other alternative."

When the Iranian involvement was originally announced, Lieberman's ministry announced that they did not know of any Iranian involvement. However, this position completely changed on Tuesday when they announced, "Following a thorough check carried out by the Defense Ministry over the last few days with the relevant officials, it has become clear that the aforementioned issue was known since 2004 about IFIC's holding 4.5%."