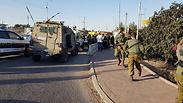 A terror cell planning a shooting attack at the Ofra settlement in the West Bank was arrested by the Shin Bet in a joint operation with the IDF's Judea and Samaria Division and Border Police Special Forces units, it was cleared for publication on Wednesday.
Shin Bet investigations revealed that the cell, which was comprised of three Palestinian minors, committed four shooting attacks during October and November 2016 using homemade weapons.
Weapons and vehicles used by the terrorists were seized by security forces during the arrest.
The Shin Bet commented that the "attacks the cell planned and committed, which were revealed during the course of the investigation, demonstrate the high level of threat that local terror activities pose, especially with the access to weapons and/or the means to produce them.
"The Shin Bet, together with the IDF and Israel Police will continue to act to expose and prevent the activities of terrorist cells."
In addition to their arrests of the members of the terrorist cell, IDF Border Patrol also arrested their family members, who were supposedly involved in hiding the weapons used to carry out the attacks.