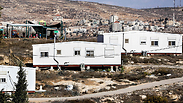 Government considers new settlement for Amona
In light of the legal difficulties of moving Amona homes north of the outpost, government seeks new haphazard solution entailing transfer of 40 families to caravans in Ofra and the establishment of a new settlement near Shvut Rachel; Amona residents oppose both options despite officials describing new formula as 'the most realistic.'
Forty families from the Amona outpost which the High Court of Justice has ordered be evacuated at the end of the month will be transferred to temporary caravans in the adjacent settlement of Ofra and perhaps relocated to a new settlement, as part of a new possible solution to the ongoing crisis.

The new proposal comes in the wake of legal objections raised in the last 24 hours to an initial solution approved by Attorney General Avichai Mandelblit according to which the residents would be enabled to move their homes to a location around 300 meters north of the outpost.

In the meantime, a new settlement is set to be established for the evacuated residents near Shvut Rachel in the Binyamin region.

According to the new haphazard plans, which are now being consolidated with the Civil Administration, 20 families will be temporarily transferred to vacant lands in Ofra while the other 20 families will be transferred to lodgings in the settlement.

The Attorney General's Office says this is one solution being discussed among a series of alternatives, while the Defense Ministry continues to search for other possibilities.

Legal officials involved in the issue have said that the temporary solution involving caravans and populating Shvut Rachel as a permanent solution currently represent the most plausible outcome.

Upon realizing that the solution to which the government had agreed was expected to fail, the Civil Administration hurried to establish the new structures in Ofra. The plan is expected to be completed over the coming 24 hours and afterward will be reviewed by the government.

For their part, the residents have objected to any relocation of their homes, including to Ofra or waiting for the establishment of a new settlement.

According to the residents, the only solution is the Regulation Bill which includes the controversial Clause 7 which was struck from the original bill proposal since it demanded the retroactive legalization of Amona despite the fact that the courts had already ruled on the matter. "From our point of view, only the Regulation Bill is the only solution. Or we will see here a nasty evacuation," the Amona official warned.

Meanwhile, Germany urged Israel, in unusually strong language on Wednesday, to scrap legislation altogether, arguing that it would break international law.