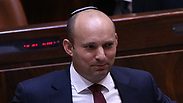 Naftali Bennett
Photo: Alex Kolomoisky
Regulation Bill passes first Knesset reading
With 58 Mks voting for and 51 voting against the first Knesset reading of the Regulation Bill, devoid of the controversial Clause 7 dealing with Amona, Bennett rejoices before the plenum, hailing the bill's passage as 'a day of extreme pride; calls on Amona residents to refrain from violence when outpost evacuated; 'it is forbidden to raise a hand to your brother.'
The Regulation Bill passed its first Knesset reading on Wednesday evening with 58 MKs voting in favor and 51 voting against, just two days after passing its preliminary reading.

Speaking at the Knesset plenum, Bayit Yehudi leader Naftali Bennett praised the bill's passage.

"This is a day of extreme pride. It is a day on which half a million resident of Judea and Samaria and all Israeli citizens can raise their heads in the knowledge that not only are we truly the people of this land, but we are also the people according to the law of the State of Israel," he rejoiced.

"The next step is to impose Israeli sovereignty on Ma'ale Adumim, and the step after that is to apply the law. I will impose it when I have 30 mandates. You said that this wasn't possible, and yet here it is happening," he said.

"I want to say thank you to Prime Minister Benjamin Netanyahu. Over the the past few days we have worked extremely hard to provide an answer to a matter which is far from simple. Everything is under control in the armored vehicle," Bennett said in reference to recent charges levelled against him that his behavior was causing destruction within the coalition.

Echoing statements made in the Knesset the previous day by Justice Minister Ayelet Shaked (Bayit Yehudi) Bennett sardonically said, "I would like to thank Peace Now. Peace Now sent small mosquitos in our direction—High Court and more High Court—and today, thanks to the best people in Peace Now, we are not fighting these mosquitos but rather draining the swamp."

Turning to the residents of Amona, who are still set to be evacuated by the year's end and have already indicated their willingness to employ force to resist their removal, Bennett beseeched them to refrain from resorting to violence. "In no situation, under no circumstances, and on no issue can a hand be raised against a brother," he said.

Israeli officials are concerned that the bill could provide grounds for prosecution by the International Criminal Court in The Hague. It prompted particularly strong criticism from Germany. Netanyahu himself cited possible court action when he initially opposed the legislation promoted by Bennett's party, which stands to the right of Likud. Palestinians condemned the bill as a land grab in territory they seek for a state.

But while Netanyahu voiced concern over the bill, a failure to support it could have ceded ground to Bennett in his pursuit of conservative voters that form the power base of both Bayit Yehudi and Netanyahu's Likud.

Remaining faithful to his opposition to the bill, Benny Begin (Likud) broke protocol by voting for a third consecutive time against the proposed legislation.

Having voted against the unrevised bill in its preliminary reading in mid-November and then once again during Monday's preliminary reading of a revised version without the controversial Clause 7, which demanded that a retroactive solution be found on the issue of Amona despite the fact that the courts had already ruled on the matter, Begin was temporarily suspended from the Knesset Constitution, Law, and Justice Committee.