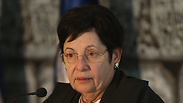 Supreme Court Chief Justice Miriam Naor
Photo: Alex Kolomoisky
Supreme Court president warns: Majority's decision is not necessarily democratic
Chief Justice Miriam Naor hints at the controversial Regulation Bill as she warns of the tyranny of the majority: 'A majority that denies individuals their rights, that oppresses the minority living in its midst—is not a democratic administration.'
Supreme Court Chief Justice Miriam Naor warned of the tyranny of the majority on Thursday, hinting at the controversial Regulation Bill, which seeks to retroactively legalize Jewish outposts in the West Bank that were built on privately-owned Palestinian land with government help.

"There are those who identify democracy with majority rule," she said during a swearing-in ceremony for new judges held at the President's Residence in Jerusalem.

"Some would claim that if a decision was adopted by a majority, then by definition it represents a democratic decision. This is a mistake," she said. "Majority rule is a necessary condition for democracy, but it is an insufficient one. Without curbing the power of the majority, the system may become a tyranny. Such things have happened. A majority that denies individuals their rights, a majority that oppresses the minority living in its midst—is not a democratic administration."

Naor went on to say that "Protecting basic principles and human rights cannot, therefore, be considered an undemocratic act—but the very embodiment of democracy. Consequently, the majority and the state—any democratic state—must respect the rights of all and protect these rights. That is the duty of all government authorities. And when it comes to checks and balance, which is also one of the vital principles of democracy, the responsibility in practice to ensure these rights are kept belongs to the courts system, and primarily to the Supreme Court."

Among the judges sworn in on Thusday was Miriam (Mika) Banki, whose daughter Shira Banki was murdered by an ultra-Orthodox man during the Pride Parade in Jerusalem in 2015.

President Reuven Rivlin opened the ceremony by mentioning Banki's appointment. "When I meet with bereaved families, a moment before the door closes behind them I pray we'll meet again at a happy occasion. I'm glad to share this moment with you and your family," he told her.