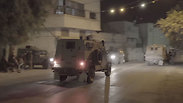 Archive
Photo: IDF Spokesperson
Arab Israeli terrorist cell arrested in Jerusalem
The Shin Bet and Israeli Police arrest eight members of the group, mostly minors, which includes Hamas operatives; they were allegedly planning shooting attacks in the capital; the members of the network met whilst incarcerated for violent disturbances of the peace; Shin Bet emphasizes the danger posed by terrorists who hold Israeli citizenship.
The Shin Bet and Israel Police cleared for publication on Friday that they arrested Arab Israelis in eastern Jerusalem on suspicion of being part of a terrorist cell that was planning attacks in the capital and at an IDF base.

The uncovered terrorist network was located in the neighborhoods of Sur Bahar and Sheikh Jarrah. The authorities suspect that their plans included shooting attacks at an IDF base and in northern Jerusalem. Amongst those detained, most of whom are minors, were Hamas operatives.

The Shin Bet's investigation revealed that during 2015, while serving prison sentences for violent disturbances of public order, the eight members of the network established a cell to carry out shooting attacks in Jerusalem. The IDF base that they were targeting is on Mount Scopus, adjacent to Hebrew University.

Some members of the cell observed the army base after their release from prison to evaluate the options for a plan of attack. In addition to this, it became clear that some members of the cell were involved in violent riots in the Old City of Jerusalem and on the Temple Mount last Ramadan and during days in memory of terrorists who were recently killed in the capital.

The Shin Bet stated, "Thwarting the network prevented the realization of serious terrorist attacks in Jerusalem, and its exposure again demonstrates the great risks of terrorists with Israeli identity cards who enjoy freedom of movement, access to means of warfare, and the relative ease of carrying out attacks."