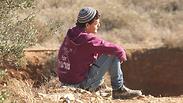 A supporter at the settler of Amona
Photo: Motti Kimchi
Facing evacuation, West Bank settlers remain insistent
With a court-ordered evacuation of Amona looming over them, residents of the West Bank settlement are gearing up for one final battle; but while the country remembers all too well the trauma of the Gush Katif evacuation, Amona supporters are careful to insist on a peaceful resistance.
Facing a court-ordered evacuation, residents of the Jewish settlement outpost of Amona in the West Bank are digging in for a fight to the finish. Vowing fierce but nonviolent resistance, they have built shelters, bathrooms and a large kitchen to host thousands of supporters they hope will join them in their struggle to stay put.

With the Dec. 25 evacuation date approaching, Israel's pro-settler government is scrambling to find a solution, fearing a repeat of the violent showdown between extremist settlers and Israeli security forces that took place on this same wind-swept hilltop a decade ago.

Residents are playing down any expectations of violence, saying the arrival of supporters is meant as a show of strength. But they are hunkering down in hopes that a last-minute deal can still be struck that would thwart an evacuation.

"Amona must remain here on the hill," said Eli Greenberg, a community spokesperson who has lived there since 2004. "Destroying Amona is bad for everyone. It's unjust, it's immoral, it's good for nothing and it can be easily prevented."

In 2014, Israel's High Court of Justice ordered Amona to be evacuated, after it determined the outpost was built on private Palestinian land, giving the government until this Dec. 25 to tear down the outpost's 50 trailer homes. The outpost, built in the 1990s, stretches out over a rugged, grassy hilltop and looks out across the valley onto Palestinian villages. Beyond the homes, the outpost has a synagogue and a basketball court and is speckled with vineyards.

The volcanic matter of evacuating Amona has threatended to end Prime Minister Benjamin Netanyahu's coalition. He has been forced to find a balance between appeasing his settler constituents and maintaining the integrity of Israel's Supreme Court, which has come under attack by hard-line legislators accusing it of ruling unfairly against settlers. Netanyahu, himself a strong supporter of the settlements, also is wary of being seen as soft by the harder-line settler allies, such Naftali Bennett's Bayit Yehudi who dominate his government.

"We are working overtime to find a responsible solution to the issue of Amona and for similar cases in the future," Netanyahu told his weekly cabinet meeting on Sunday. "We must act responsibly and prudently here for a common goal: to defend settlements, and to defend the court."

Greenberg, the spokesperson, said Israeli farmers have pledged to donate five tons of vegetables to feed incoming supporters. And in a last ditch attempt, the settlers have launched a crowd-funding campaign that has already raised nearly $80,000 "to establish a legal, explanatory and practical defense, and to save our homes."

Hoping to find a loophole to the court ruling, the government has promoted a bill that would retroactively legalize Amona as well as thousands of other homes built on privately-owned Palestinian land. But Amona was dropped from the draft bill after a coalition partner refused to support legislation that would violate the Supreme Court decision.

A revised bill, which received preliminary approval from Israel's parliament this week, is moving forward without Amona, leaving unsolved the fate of the outpost's 300 residents.

The anti-settlement group Peace Now estimates that the bill would legalize some 4,000 homes in outposts and settlements across the West Bank. Palestinians who claim to own land that has been incorporated into a settlement would receive compensation under the bill, which is expected to face tough legal challenges if it passes.

Aside from the dispersed outposts, the West Bank is home to an additional 120 settlements that Israel considers legal. The settlers in Amona are hoping that their fate can still be linked to the settlement legalization bill. But even with the evacuation likely to move forward, attempts to relocate Amona's residents have hit snags. A plan to move them to a nearby plot of land appears to have been thwarted after Palestinians objected, saying they own the property.

Netanyahu is expected to ask the Supreme Court to delay the evacuation deadline by 30 days, into the start of US President-elect Donald Trump's term in office, which may allow him to devise a more creative solution.

Trump has surrounded himself with pro-Israel advisers and he is expected to be more sympathetic toward Israel's settlement policies than the Obama administration. US Secretary of State John Kerry this week called the settlement bill "really concerning."

Pro-settler coalition members have conceded that Amona will likely have to be evacuated. To soften the blow, they have painted Amona's residents as martyrs who will be taking a hit for the greater good of Israel's settlement enterprise.

Police have declined to comment on plans for the evacuation. But Israeli media reported that some 1,000 officers are expected to be deployed and that 200 restraining orders are set to be issued to keep away potentially violent Jewish extremists.

Israeli media aired footage showing police officers staging an evacuation exercise at a training base where a mock Palestinian village served as a stand-in for Amona.

Mordechai Zacharia, 25, drove up to Amona from a settlement in the southern West Bank to help construct bathrooms for supporters. He said he's not sure what the forecast for violence might be, but that demolishing Amona would be a blow to all settlers.

"To throw someone out of his home and to return land is serious and terrible," he said, sifting through a box of pipes. "I feel betrayed by the state."