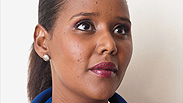 Pnina Tamano-Shata
Photo: Benny Doutsh
Ethiopian-born Israelis can now donate blood
The Health Ministry announces that Israelis born in Ethiopia will now be allowed to donate blood; the change was hard-won and took years to become ministerial policy; 'It may be 30 years late, but the light has beaten out the phobia that's been cast on us ever since we came here, says Pnina Tamano-Shata, the Ethiopian-born former MK that led the change in policy.
In a battle that took years to win, it was announced on Thursday that the Health Ministry will begin accepting blood donations from those born in Ethiopians. The decision came about due to a persistent call to end the discrimination, stemming from the 2013 Ynet report on Pnina Tamano-Shata, then an Ethiopian MK for Yesh Atid, who was denied the option of donating blood due to her being born in Ethiopian.

Former Health minister Yael German, also from Yesh Atid, teamed up with Tamano-Shata at the time to bring about this change in policy. "I was stunned by the fact that she wasn't allowed to donate blood, in addition to (other) community members," said German of the case. "Together, we founded the committee that offered up recommendations that changed things."

The back story to the change was an incident that occurred in December 2013, when Tamano-Shata had wished to donate blood as part of a Knesset blood drive held by MDA (Israel's medical emergency and blood bank service). When she approached the medical team taking donations, she was told that could not donate blood due to "Ethiopians' special blood type."

When she insisted on receiving a more acceptable answer, she was referred to the person in charge. Tamano-Shata asked to have a professional team assess her personal details and determine whether she was eligible to give blood. After another examination, she was told that she was not, though if she insisted, they would take her blood anyway. When Tamano-Shata asked what would happen to the donation, she was told, "We'd freeze it."

As a young woman, Tamano-Shata lead the social protest against automatically disposing of Ethiopian blood donations. In 2006, this issue once again became a matter of public debate, at which point Tamano-Shata founded a social call to action, insisting that the policy be changed, until her battle eventually helped her reach the Knesset.

"I'm good enough to serve my country and in the Knesset," she responded at the time. "But for some reason, I'm not good enough to donate blood. It's sad that after all these decades, the state hasn't learned not to distinguish blood from blood or to not treat people equally. It's a humiliation that's been following me since I was 16, during the first case, and I hope the health minister will change this," said Tamano-Shata at the time, referring to German.

Her request was heard by the incoming minister, who announced the erection of a special committee to look into the policy. "Three weeks after becoming (health minister), I ordered to once again look into the guidelines that prohibit taking blood donations from homosexuals. Not long after, Pnina's story blew up," she said.

The committee reviewed the policy over a period of a year and a half, and eventually concluded that Ethiopians should be allowed to donate blood. Its recommendations were brought before the current Health Minister Yaakov Litzman (United Torah Judaism), who decided to accept them.

The new policy states that Ethiopian-born Israelis could donate blood, as long as they state they have not visited Ethiopia over the past year. The change would reflect similar policies adopted by most Western countries. In addition, men who have sex with men will also be allowed to donate blood, provided that they have not had same-sex relations over the past year.

"It may be 30 years late, but the light has beaten out the phobia that's been cast on us ever since we came here," Tamano-Shata said in response to the decision. "This is an end to the humiliation and singling out of soldiers, young and old members of the (Ethiopian) community. Finally, an end to the separation of blood from blood. An end to regulations that go against what is accepted in the world. An end to the saga of humiliation regarding not accepting blood due to one's origins."

"This moment is important," continued Tamano-Shata. "For equality and the understanding that even if we have to stubbornly keep fighting, we won't give up, because this is our home, no less so than anyone else's."