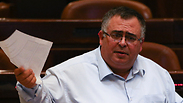 MK Bitan
Photo: Ohad Zwigenberg
Coalition chairman angers Arabs with voting remarks
Appearing at a cultural forum in Nes Ziona, Likud MK David Bitan speaks about how he prefers that Arab Israelis not vote for the Joint List, as the party doesn't represent them; he claims the party is serving the interests of 'Gaza, Qatar and other countries'; Bitan also discusses Regulation Bill.
Coalition Chairman MK David Bitan (Likud) told a cultural forum on Saturday that he would rather that Arab Israelis not vote, as the party that ostensibly represents them is truly serving Palestinian interests.

Bitan said the Arab Joint List in parliament doesn't "represent the Arabs; they represent Gaza, Qatar and other countries." He said he would "prefer" if Arabs didn't go to the polls to vote in elections.

Bitan said this in response to a question regarding Prime Minister Benjamin Netanyahu's warning on Election Day 2015 that "the Arabs are flocking to the polls." Netanyahu later apologized. Bitan said on Saturday that he considered the prime minister's words appropriate.

The statement has already garnered responses, including from former Prime Minister Ehud Barak, who tweeted, "Bibitan, using the voice of his master, exposed the true direction we are headed. While it may be a popular direction, we are being led to a deep abyss."

His remarks angered many centrist Israelis as well as members of the country's Arab minority. The Joint List called for Bitan's dismissal. Ayman Odeh, who heads that bloc of Arab parties, tweeted that Bitan's "racism and that of the government" only strengthens them.

Odeh told Channel 2 TV that Bitan's comments "continue to prove that all this leadership has to offer is explicit racism and cheap populism."

His fellow parliamentarian from the list Yousef Jabareen said: "Let's think how the political system in France would respond if the coalition chairman would say he doesn't want Jews to go to the polls."

Regarding suspending Benny Begin (Likud) for voting against the party line regarding the "Regulation Bill," Bitan said, "He didn't get a Nobel Prize for his wisdom and knowledge. MK Begin was not elected on his own, but as part of the Likud faction. Therefore, he was punished."

Continuing on the subject of the bill, the MK said, "If the attorney general doesn't defend the laws of the Supreme Court, we will use private lawyers who expressed their support of the bill in the Knesset."

He also said, "We will formulate an alternative layout which will be able to get government position as it relates to Amona, and thereby negating the need for a second and third reading in the Knesset."