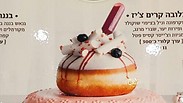 Another variation of sufganiyah
Photo: Meirav Crystal
Despite being a member of one of Israel's ultra-Orthodox political parties, Health Minister Yaakov Litzman has called on the public not to eat the traditional Hanukkah treat—sufganiyah.

A sufganiyah is a deep-fried round doughnut traditionally covered with powdered sugar and filled with strawberry jelly. Israeli bakeries offer a plethora of variations, which include different types of coatings and fillings.

"I call on the public to avoid eating sufganiyot, which are rich in fats," Litzman said at the conference in Herzliya to promot healthy eating. "You can find alternatives for everything nowadays and there is no need for us to fatten our children with sufaganiyot, which are not in line with the principles of health and proper nutrition."

Earlier this year, the Health Ministry launched a campaign to encourage the public to choose healthy food over junk food.

In April, Litzman attacked the junk food giant McDonalds. "We need to educate our children not to eat junk food. McDonalds out. Not in our country," he said.

On Sunday, the health minister added "If I had to say this today, I'd say: Sufganiyot out. You can eat them, of course, because it is part of the holiday's customs, but there are alternatives."

Litzman said that while his statements have been met with anger by big companies, "I have a secret for you. I don't have to deal with primaries. I chose the Health Ministry because I thought this was the place where lives can be saved."

In August, he declared at the Israel Medical Convention: "I intend to take the healthy eating campaign all the way. You can't go out on the street with a rifle and stop people from eating junk food, but you have to sort out the food and the way to do it is in education—start at schools. Along with the education minister, we are working to ban the sale of sweets inside schools."

Three weeks ago, a committee entrusted with promoting healthy eating in Israel submitted its recommendations to Litzman. It recommended to decrease sugar, salt and saturated fat in food products and to mark harmful products in red while healthy products will be marked in green. The percentage of sugar in each food product, the committee recommended, should be indicated on the packaging, while calories, salt and saturated fat should receive prominence on the packaging as well.

The committee further recommended to prevent the marketing of unhealthy food to children and to limit advertising for such food, while at the same time making healthy food more accessible—among other things by subsidizing whole grain bread.

The implementation of these recommendations will begin at the earliest in January 2018 and at the latest in June of that year, pending the health minister's approval. This, in order to allow manufacturers enough time to redevelop products and packaging.