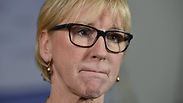 Margot Wallström
Photo: AFP
The Israeli government has decided to boycott Swedish Foreign Minister Margot Wallström's upcoming visit to Israel and the Palestinian Authority on Thursday.

Wallström is a vocal critic of Israel and has made several controversial statements in the past. Her government also holds one-sided pro-Palestinian positions.

She previously accused Israel of conducting "extrajudicial executions" of Palestinians committing terror attacks and seemed to imply that there was a connection between Islamist terrorism in Europe and the "desperate situation" of the Palestinians.

For her upcoming visit to Israel, Wallström asked to meet with Prime Minister Benjamin Netanyahu and with Israeli ministers but the official response she received was that the Israeli officials could not fit her into their schedule.

Government officials noted that this was merely an excuse, as Wallström was a persona non grata in israel.

Despite this, the Swedish foreign minister decided to go ahead with her planned visit and meet with officials in the Palestinian Authority.

This isn't the first time Wallström receives a cold shoulder from the Israeli government. She cancelled an official visit in January 2015 after Israeli officials refused to meet with her then as well.

At the time, Wallström harshly criticized Jerusalem's policies, which she dubbed "extremely aggressive," and claimed that Israel had irritated close allies by over-reacting to Stockholm recognizing the state of Palestine, saying its rhetoric over the issue had "crossed all limits."

The Swedish government is considered the most hostile to Israel among the European governments. Some in the Israeli Foreign Ministry suggested in the past to close the Israeli Embassy in Stockholm since it was a "lost cause."