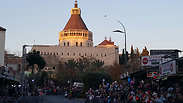 Church of the Annunciation in Nazareth
Tourism Minister Yariv Levin and representatives from his Ministry hosted on Tuesday the traditional pre-Christmas reception for leaders of the Christian communities and churches in Israel at the Shimshon Center, Beit Shmuel in Jerusalem.

The minister sent season's greetings to the Christian communities and invited the faithful around the world to make a pilgrimage to the Holy Land.

At the reception, Levin said, "I welcome you and the believers from your communities who are expected to arrive in Israel for the Christmas holiday and wish you a Merry Christmas and a Happy New Year. We are doing our utmost to ensure that their stay in Israel will be successful and enjoyable.


"The ministry invests significantly throughout the year in the conservation and upgrading of Christian sites in order to ensure that every Christian can visit the sites that are sacred for him and find them in good order, as befits their status. I invite you to visit the holy sites and enjoy the uniquely powerful religious and spiritual experience of the Holy Land."

Also participating in the reception were Tourism Ministry Director General Amir Halevi, Greek Orthodox Patriarch Theophilus III, Armenian Orthodox Patriarch Nourhan Manoogian, Custodian of the Holy Land Fr. Francesco Patton, Apostolic Nuncio Giuseppe Lazzarotto, representative of the Latin Patriarchate Bishop William Shumali, Executive Director of the Christian Embassy Dr. Jurgen Buhler and representatives from many other Christian communities in Israel. Also in attendance were members of the diplomatic community and representatives of government and private bodies involved in promoting Christian tourism to the Holy Land.

According to Tourism Ministry statistics, over half of all incoming tourists to Israel were Christian. It estimates that approximately 120,000 tourists will visit Israel in December, of whom half are Christian.

From 3pm on Christmas Eve (December 24) until 3am on Christmas Day, the ministry will offer free shuttle transportation for pilgrims travelling between Jerusalem and Bethlehem. Buses will leave every 30 minutes on the hour and half hour from the bus stop near the Carta Parking lot (opposite Jaffa Gate and near to the Mamilla Boulevard). The bus will also stop near the entrance to the Mar Elias Monastery, and at the Rosmarin junction, before continuing via Rachel's Crossing to Bethlehem before returning to the capital. There may be changes to the schedule due to demand.

Tourists and pilgrims at Rachel's Crossing will be greeted with a small gift in the spirit of the holiday. During the traditional Christmas parade in Nazareth, a firework display will take place.