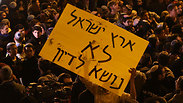 "The land of Israel isn't up for discussion"
Photo: Amit Shabi
Thousands of right-wing activists, including several West Bank municipal leaders, protested outside the Prime Minister's Residence Tuesday night against a proposed agreement to relocate Amona residents as part of an evacuation order by the High Court of Justice.
Protestors waved flags and held signs that read "the land of Israel is not up for debate" and "we don't give up Israel!"
Daniella Weiss, Director of the Nachala movement, said during the protests, "Sadly, the High Court is giving a boost to the left. There are distorted judgments that are causing damage. This evening, we have gathered to protest the injustices done to residents (in West Bank) who are treated like objects. We protest the injustice done to us. A gift like the land of Israel should not be treated like real estate holdings. The land of Israel belongs to the people of Israel."
Avi Naim, head of Beit Aryeh-Ofarim, said, "Amona is a symbol, it isn't 40 caravans, it is Jewish and is made up of families, schools and other educational institutions. Amona is a Jewish community in Israel and if we give it up, we're giving up on a lot of homes. I am telling the prime minister: this government was elected because of us and it needs to bring Jewish homes to Judea and Samaria. That is its job. I want to ask the High Court, what is the point of dismantling? Did we come here to dismantle or to build? We have a duty to protest the dismantling of communities in Israel; Amona will not fall."
According to the new solution, which was presided over during the last few days in a bid to quash the risk of matters escalating out of control as authorities prepare to implement court orders to remove the residents, homes belonging to 40 families will be transferred to available land in a different area in the outpost on condition that their owners acquiesce in the evacuation of their original location.
According to initial evaluations, the new solution will implement a project by which Area 30— containing some 25 dunams of available space— will be freed up in the outpost making way for the transfer of the homes while remaining on the mountain. If the residents agree to the proposal, Bayit Yehudi, the chief advocates of the Amona outpost, will request a 30 day extension.
Amona residents will meet on Wedensday morning to decide whether or not to accept the outline of their proposed relocation to adjacent plots voluntarily on condition that they remain on the Amona mountain intself.
If they reject the proposal, inhabitants will be evicted in the coming days despite the residents' proclaimed determination to resists evacuation orders.