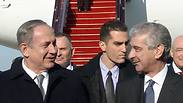 Leaders of Israel and Azerbaijan meet
Photo: Haim Zach/GPO
Netanyahu praises Trump's pledge to open US Embassy in Jerusalem
During his state visit to Azerbaijan to sign a series of security and economic agreements, Netanyahu welcomes US President-elect Trump's apparent intention to move the US Embassy to Jerusalem: 'I will respond to this is one word: Great.'
Prime Minister Benjamin Netanyahu commented Tuesday on recent statements made by US President-elect Donald Trump's senior aide Kellyanne Conway reiterating her boss's plan to move the US Embassy from Tel Aviv to Jerusalem, describing the idea as "great."

Netanyahu's comments came during the signing of a series of agreements the same day with Azerbaijan President Ilham Aliyev during the former's official visit to the Muslim-majority country.

"Regarding the idea of opening the US Embassy to Jerusalem, I will respond to this in one word: Great," the prime minister said as he praised Donald Trump's professed support of Israel.

Trump is going in the direction of supporting the State of Israel, said Netanyahu, adding that the president-elect appreciated Israel's desire to make peace.

"We enjoy the fact that we have large support in the US...The US understands that on the future of Israel—Israel is the one that must decide," he continued.

The prime minister later explained the main reasons for his visits to Kazakhstan and Azerbaijan. "The aim is to bring about a change to the automatic majority against Israel in international forum," he said.

During Netanyahu's visit to Azerbaijan, he signed a series of agreements with President Aliyev.

Welcoming the Israeli prime minister, Aliyev noted the strong defense trade between the countries – which currently stands at $4.5 billion – as well as Netanyahu's first visit to Azerbaijan during his first stint as prime minister during the 1990s. He said the current visit is a sign of both strong existing ties between Baku and Jerusalem, as well as a potential for expanding cooperation moving forward.