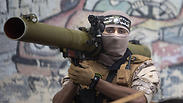 Hamas celebrates 29th anniversary in Gaza
Photo: AFP
Thousands rally in Gaza for anniversary of Hamas founding
Hamas gunmen march through the streets carrying rifles and RPG launchers and showing off rockets; sign in Hebrew warns: 'Coming from underground' in reference to tunnel threat; children wield imitation assault rifles as they attend with their families.
Tens of thousands of Palestinians, including hundreds of gunmen and children dressed as terrorists and waving mock weapons, rallied in Gaza on Wednesday in support of the militant Islamic group Hamas that rules the territory on the 29th anniversary of its founding.

In a show of force for Hamas, loudspeakers blasted the group's slogans through the streets as rockets mounted on pickup trucks rolled by.

Hundreds of masked militants marched carrying rifles, rockets, RPGs and camouflage equipment, while dozens of children wielding imitation assault rifles attended with their families.

Signs in Hebrew and Arabic were put up with a threat: "Coming from underground," a reference to the underground tunnel threat.

Hamas official Khalil al-Hayya, delivered a fiery speech at the rally full of rhetoric against Israel. He also called for reconciliation with the Fatah party, led by Palestinian President Mahmoud Abbas—but only under Hamas' terms.

Hamas overtook Gaza in 2007 after routing troops loyal to Abbas in bloody street battles. Palestinians have since been divided between Gaza under Hamas and Abbas governing parts of the West Bank.

Israel and Egypt imposed a blockade on Gaza after Hamas took over Gaza. Israel says the blockade is necessary to prevent Hamas from getting weapons while critics say it amounts to collective punishment

Hamas has fought three wars three wars with Israel since it took over Gaza, including a 50-day clash in 2014.

The militant group is struggling to pay salaries to its members because of the blockade.

To offset the fiscal shortage, the Hamas government imposed more taxes on the exhausted Palestinian population in Gaza and is paying reduced salaries for the employees.

Al-Hayya, the Hamas official, stressed that Gazans should enjoy freedom of movement, job opportunities, access to clean water and constant electricity, but he offered no plans to materialize these needs.

For some Palestinians, the message behind the great show of arms is directed to the local population that the Islamic movement will not tolerate any revolt.

"People are tired, they need a life like humans," said a cosmetics store owner, who sat in front of his business watching the rally, but only identifying himself as Abu Ahmed, fearing retribution. "Who is going to rise up against those," he said of the militants. "They must make concessions for our lives to revive again."

Hamas can't change its political views because they are restricted by the group's own religious ideology, said Gaza analyst Akram Attallah.

"Therefore, we will not see essential changes in Hamas' political view of reconciliation (with Abbas) and the siege (Gaza blockade)," he said.