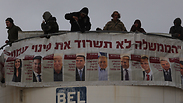 Residents prepare to resist
Photo: Gil Yohanan
Amona residents defend decision to reject compromise
In an effort to justify decision to reject latest compromise to Amona evacuation, outpost's representatives blame government's refusal to commit to delivering on their promise that inhabitants would remain on the mountain; 'They were putting a gun to our heads. The proposal was like Swiss cheese.'
Residents of Amona held a press conference Thursday afternoon during which they sought to explain their decision to reject a proposed compromise the previous night, which would have allowed them to transfer their homes to available land in a different area in the outpost on condition that their owners acquiesce in the evacuation of their original location.
"The state made no commitment to anything and it is putting a gun to our heads," said Avichai Boaron, who is heading the struggle against the evacuation. We have sacrificed our homes but we won't agree to destroying our children's souls."
An analysis of the proposal's details, Boaron said, revealed that the government would not be obliged to make good on its promise and ridiculed it as a piece of "Swiss cheese...We were prepared to accept the destruction of our homes by moving from home to another so long as a Jewish town remained on the mountain and as long as our children could continue walking the paths of their childhood."
In light of the fact that there was no guarantee existed to ensure this however, Boaron said, the residents of Amona decided, by an absolute majority, to reject the proposal.
"It still isn't too late to prevent the difficult scenes of a forced and painful eviction," he told his listeners. "You don't rip a person from his home. We want an explicit commitment that the residents of this town will be able to move from their homes to another home. To extricate a child from his playing room, or a little girl from her bed is a violent act."
Asked whether violence would be employed against the security forces charged with the task of removing them, Boaron said that the resistance would be "legitimate, democratic, for the people and widescale" but assured that the resistance would be passive in its nature.
"We call on all of Israel to come and stand by our side. We want to respect the security forces, but there will be passive resistance," he promised.