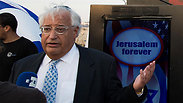 Trump pick for ambassador to Israel blasts critics as 'worse than kapos'
Attorney David Friedman has come out lambasting those who criticized his being selected by US President-elect Donald Trump due Friedman's past statements calling Obama's actions 'anti-Semitic' and comparing some of his detractors as 'kapos,' for actions he feels are harmful to Israel.
US President-elect's pick to ambassador to Israel, bankruptcy attorney David Friedman, has responded to some of the criticism lobbied at him following the announcement of his nomination.

Referring to hopefully filling the position as ambassador to Israel, Friedman stated that "It is an honor and a privilege to advise Mr. Trump on a critical issue that is near and dear to my heart, and I fervently hope that I have the opportunity to assist him in developing and implementing policies that strengthen both countries and the unbreakable bond between them."

Friedman admonished being referred to as one of Trump's "token Jews," and emphasized that he is "not in Mr. Trump's employ, have hundreds of other clients, and hold views on Israel that are entirely independent of any political movement or candidate. Those views have been developed over more than thirty years of study of historical accounts and scholarly works, interaction with Israeli political, military and business leaders, and probably 100 trips or more to the Holy Land." He further added that his beliefs "are not for sale to the highest bidder."

Friedman also referred to the abject rejection of his nomination by left-wing and even pro-Israel groups such as J Street, which called Trump's pick "reckless" due to Friedman's support of settlement expansion. Friedman claimed that is it this reaction that "lays bare how dangerous the Jewish left is to the State of Israel."

Having gone on record as describing US President Barack Obama's approach to Israel as anti-Semitic rhetoric, Friedman made clear that he was basing his position on what he considered to be the Obama administration's weak response to national terrorism in Israel. "Asked to comment on the unspeakable tragedy of innocent Jewish civilians being murdered by knife-wielding Islamic radicals, Obama and Kerry do little more than condemn the proverbial 'cycle of violence,'" stated Friedman. "I'm sorry, but this is pure and outright murder and any public figure who finds it difficult to condemn it as such without diluting the message with geo-political drivel is engaging in 'blatant anti-Semitism.'"

Referring to his call to possibly deny citizenship and college tuition to those who express criticism toward the State of Israel, Friedman touched upon other countries' internal affairs policies, claiming that "Every civilized country other than Israel punishes treason. In the United States, advocating to overthrow the government by force or violence can get you life in prison." He also raised the question, "Is there no minimal allegiance required for Israeli citizenship?"

Friedman doubled down on another greatly criticized statement of his, in which he compared J Street supporters to kapos—Jewish prisoners in Nazi concentration camps who were tasked with guarding and managing the other prisoners. "They are far worse than kapos—Jews who turned in their fellow Jews in the Nazi death camps," he said. "The kapos faced extraordinary cruelty and who knows what any of us would have done under those circumstances to save a loved one? But J Street? They are just smug advocates of Israel's destruction delivered from the comfort of their secure American sofas – it's hard to imagine anyone worse."

Donald Trump, said Friedman, "thinks that when radical Islamic terrorists are trying to kill you, the right thing to do is kill them first. Don't negotiate, reason or cajole. Just defeat them. Or as Mr. Trump would say, 'win.'"

Friedman ended his response by saying that he hopes that such criticism of himself will only "will leave you convinced to vote for Donald Trump."