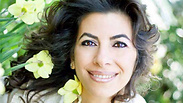 Beki İkala Erikli, a Jewish-Turkish writer, was murdered Thursday in a shooting attack at the entrance her office in Istanbul by an unknown female assailant. The motive behind the attack is still unknown.
Erikli is best known for her book "Living with the Angels" and was a member of Turkey's Jewish community.
Turkish news site Hürriyet reported the murder took place at approximately 6:00pm and that Erikli was shot three times and found in a pool of blood. The shooter escaped on foot.
According to Hürriyet, bystanders who heard the gunshots rushed to the scene and alerted rescue services who attempted to resuscitate Erikli, but to no avail. Police are currently checking surveillance from the area in an attempt to locate and identify the suspect.
Erikli, who is married to a Turkish Muslim man, lived for a time in the United States before returning to Turkey. Her books and other works have been well received in Turkey, especially among the female population.
Turkey's Jewish community has expressed concern of anti-Semitic motivations behind the murder prompting authorities to investigate the possibility.