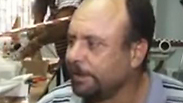 Tunisian media outlets are reporting that the Mossad is responsible for the assassination of Mohammad al-Zawahri, a flight engineer who was shot to death Thursday at close range in his car in the city of Sfax.

Tunisian journalist Burhan Basis writes that al-Zawahri left Tunisia in 1991 for Syria, where he made contact with Hamas and eventually became a close associate who supplied the terrorist organization with his technical expertise.

Scene of the assassination

Al-Zawahri was an engineer who worked in the development of unmanned aerial vehicles. According to Basis, he was under Mossad surveillance until his murder on Thursday.

Additionally, Gulf media site Al-Khaleej Online is reporting from "well-informed sources" that over the last few years, Al-Zawahri had received a series of threatening phone calls due to his work on unmanned aerial vehicles and his support for the Palestinian cause. As such, the same sources claim that foreign security agencies were involved in the assassination.

Tunisian media outlets are also reporting that several suspects have been arrested in connection with the murder.

Five hours after the assassination, the Tunisian National Security Commissioner, Abed al-Rahman Balhaj Ali, announced his resignation without specifying why. Political sources in Tunisia have not ruled out the possibility that the resignation came against the backdrop of the assassination.

Hamas UAV capabilities took a severe hit during Operation Pillar of Defense in 2012, but have steadily been rehabilitated in recent years culminating in several Hamas attempts to infiltrate UAVs into Israeli territory.

The IDF believes that Hamas will make extensive use of UAVs in the next confrontation with Israel despite limitations in materials and technology. As an alternative, Hamas has been using kites fitted with cameras to gather intelligence on what is happening near the border.