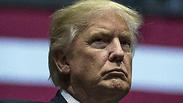 Trump team: Too early for US embassy move to Jerusalem
After making lofty promises on the campaign trail to move the US embassy to 'the eternal capital of the Jewish people,' Trump has yet to announce details on the proposed move; Palestinian officials have expressed anger at such a move, saying it harms the peace process.
Representatives for Donald Trump on Friday said it was too soon to say when the Republican US president-elect would make good on his controversial campaign promise to move the US embassy in Israel from Tel Aviv to Jerusalem.
Trump aide Jason Miller said Trump "remains firmly committed to" the move. But with more than a month until Trump takes office on Jan. 20, and having just announced David Friedman as his choice for US ambassador to Israel, more details "might be a little be premature...we don't have that yet," Miller told reporters on a conference call.
However, a senior Palestinian official warned President-elect Trump against the proposed embassy move, stressing that such a decision will destroy the peace process with Israel.
"The status of Jerusalem should be negotiated between Israelis and Palestinians, and make a decision today would be a destruction of the peace process", said Secretary General of the Palestine Liberation Organization (PLO) Saeb Erekat to reporters.