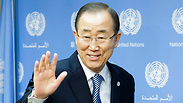 Ban Ki-moon admits UN's Israel bias
While addressing the UN Security Council, the outgoing secretary general admits that the political agenda of certain member states have created a disproportionate number of anti-Israel resolutions; 'In many cases, instead of helping the Palestinian issue, this reality has foiled the ability of the UN to fulfill its role effectively.'
During remarks yesterday before the UN Security Council on the Israeli-Palestinian conflict, Secretary General Ban Ki-moon admitted that the UN is biased against Israel.

"Over the last decade I have argued that we cannot have a bias against Israel at the UN," said Ban. "Decades of political maneuvering have created a disproportionate number of resolutions, reports and committees against Israel. In many cases, instead of helping the Palestinian issue, this reality has foiled the ability of the UN to fulfill its role effectively."

Despite the admission however, Ban said, "Israel needs to understand the reality that a democratic state which is run by the rule of the law, which continues to militarily occupy the Palestinian people, will still generate criticism and calls to hold her accountable."

This candid admission by the outgoing secretary general comes amid calls he made for Knesset members to reconsider the Regulation Bill. "This law will have negative consequences for Israel and it decreases the chances for peace between Israel and the Palestinians." Ban also added that the fact that there is no Palestinian unity in the two Palestinian territories is an obstacle to the two-state solution.