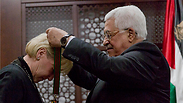 Wallström and Abbas
Photo: AP
Swedish Foreign Minister Margot Wallström was warmly received on Friday evening in Ramallah, where she met with the Palestinian leadership, according to the Swedish tabloid Expressen.

The foreign minister, who was snubbed by Israel in her visit to the region due to her previous strong condemnations of the Jewish state, met with Palestinian President Mahmoud Abbas and Foreign Minister Riyad al-Malik, who both thanked her for her country's support of the Palestinians.

Wallström is a vocal critic of Israel and has made several controversial statements in the past. Her government also holds one-sided pro-Palestinian positions.


The Palestinian president decorated Wallström with the Grand Star of the Order of Jerusalem.

Wallström said in a press conference, "Sweden's policy was aimed at creating a future in which Israel and Palestine can live side by side. It is deeply worrying that Palestinians are beginning to lose hope in the future after 50 years of occupation," as quoted by Expressen.

The tabloid reported that the minister did not feel that Israeli officials' refusal to meet with her was "a failure." She commented, "From the beginning, I asked to visit Israel. It is important to have dialogue also with those who do not share the same opinion. Unfortunately it was not possible."

Despite her support for the Palestinians, the minister told her hosts that they must fight against corruption in their ranks and against human rights violations. This message, according to Expressen, came on the background of criticism in Sweden regarding the conduct of the Palestinians, who are the largest recipients of Swedish aid per person.