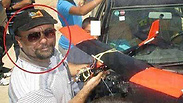 Hamas engineer was developing remote-controlled subs in Tunisia
Brother reveals Mohammad al-Zawahri, allegedly killed by the Mossad, was working on long-range remote-controlled submarines, reportedly for Hamas; Tunisian authorities investigating killing say it is being treated as murder, not assassination; radio station reports security cameras outside his home were hacked ahead of his death.
Chief Hamas drone engineer Mohammad al-Zawahri was allegedly working on building remote-controlled submarines for the Islamic terror group before he was killed in Tunisia, his brother Radwan al-Zawahri claimed in an interview with Al-Jazeera.

Radwan said that his brother was working on a doctorate in engineering and was in the process of designing a submarine that could be steered remotely.

"He was very quiet about it," Radwan said. "I was able to get him to tell me a little about it, but he wouldn't tell me much."

The drone engineer's wife, Majdah Khaled Salah, told Al-Jazeera about his alleged assassination, which has been attributed to the Israeli Mossad.

"At approximately 1:50am we heard gunshots. I got out the door and started to run, I thought at first it was a gas explosion. But when I ran outside, I saw my husband's car smashed in from the back. I ran around to the other side of the car, and I found my husband. I called out to my husband, calling him by his other name 'Murad.' I said 'Murad, answer me!' I put my hand on his heart and his clothes were full of blood. His phone fell into my hand. The bullet hit his heart. It was one bullet to the heart and another to the throat," she recounted.

She was asked whether she thought a foreign intelligence agency was behind her husband's assassination, and said "No, I didn't think about that."

She also denied knowledge of her husband's connection to armed groups in Gaza, Lebanon and Syria, saying "My husband was very quiet. Even if we were sitting together for an hour or two, he would barely utter a word. He was very quiet."
Security camera footage erased
Meanwhile, Tunisian radio station Shams FM, which also reported the Hamas operative's death, reported that the security camera around his house in Sfax were disabled shortly before his death and that footage at the house was tampered with.

According to the report, during the time of the alleged assassination, the security cameras showed footage from different cameras in a different part of the city.

Investigators said that those behind the assassination had a vast technical background, and were very professional in what they did.

Official Spokesman for the Sfax municipal court, Murad al-Turki, said that there "is nothing in the case" to suggest a connection between Israel and the Mossad and the assassination of the Hamas engineer.

He added that the court is treating the case as a murder and not an assassination, and said that eight people have already been arrested in response to the killing. They were drivers of four cars that are suspected to have been used in the killing, along with the owner of the rental company where the cars were rented. A reporter and a cameraman were arrested as well.

Authorities are currently searching for suspects of Tunisian and mixed Moroccan-Belgian origin in connection to the killing.

The journalist is of Hungarian origin and was trying to interview Mohammad al-Zawahri. Guns and silencers were found in one of the vehicles rented in her name.