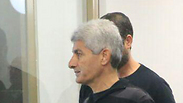 Former Or Yehuda mayor convicted and imprisoned
The former mayor of Or Yehuda, David Yosef, was sentenced to two years in prison and slapped with a fine of NIS 30,000 after being convicted of corruption and sexual offenses.

The indictment filed against him primarily dealt with his sexual offenses, with 10 different women coming out against him. He was also convicted of using his political position for wrongdoing and breach of trust, amongst other corruption charges.

Judge David Rosen noted that "this is a defendant who was convicted of a long list of crimes. There have been dozens of instances whereby the former mayor stole public money. He handed out scholarships using the money from the public account to buy the hearts of his constituents, not out of a desire to give charity but to advance his own personal interests."

"The accused is also guilty of sexual assaults and sexual misconduct," the judge continued. "He sexually assaulted women who arrived at his office either by chance or not ... even worse than this assault on the body and the soul, (Yosef) took advantage of the victims by forcing them to acquiesce to his sexual desires under threat that they would be fired should they refuse to do so."

The judge also said that "the women were unable to refuse, as they needed the work. The accused was full of lust and even more than that enjoyed lording his position of power over the women."

Regarding the corruption charges, the judge wrote that "these are terrible and serious actions derived from extraneous interests. The accused named a street after a woman he was in love with while he was serving on the city council. The defendant exceeded the rules of basic integrity. The accused also used his power to infringe upon the rights of his subordinates."

Yosef served two terms as mayor from 2007-2015 and was considered a menace amongst the municipality workers. He demanded employees to obey his orders unconditionally, and those who went against him saw their budgets cut, projects terminated, and some were even terminated from their positions.

The former mayor also named a street after his mistress. Bali alley in the city is named after a nickname he gave her.