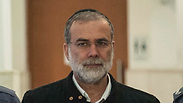 Rabbi David Harrison
Photo: Yoav Davidkovich
Rabbi David Harrison has been charged with a dozen counts of sodomy, rape, indecent assault and threatening behavior for acts he committed while serving as rabbi of a religious girls' school in Jerusalem.

According to an indictment filed Sunday morning in the Jerusalem District Court, the acts attributed to him occurred two to four times a week.

Esther Bar-Zion, who is representing Harrison, said, "From our point of view, nothing has been attributed to my client."

The court decided to release Harrison to house arrest, where he will remain with his son in Petah Tikva.

Harrison, aged 58 from Jerusalem, worked at Ulpanat Beit Shlomit between the years 2007-2010. He is accused of committing serious sexual offenses against teenage girls—including rape—while he was working at the school.

According to the indictment, in 2009 while serving as a substitute teacher, Harrison met a 14-year-old student who eventually filed a report with the police when she was 20. According to the victim, he would ask her to perform tasks in class, such as handing out papers, and touch her each time to judge gauge her response.

Eventually, Harrison asked her to meet him alone in a teacher's lounge where he attacked her for the first time. Afterward, he would tell her to meet him again every week in the teacher's lounge or another area of the school where he would perform dozens of acts of rape, sodomy and indecent assault.

The indictment also alleges that Harrison threatened the girl and told her he would hurt her and tell everyone she was a prostitute. Harrison also threatened the girl that she would be kicked out of school and no other school would accept her. Additionally, he also threatened to tell her parents and others that she acted inappropriately with him.

According to the indictment, on one particular occasion, Harrison even forced the girl to take the "morning after" pill.

Harrison denied the allegations, saying "When I was arrested, I was told I'm suspected of rape. I went into questioning smug and didn't ask for a lawyer because I was sure this was a complete mistake. There isn't even a hint of an offense. I didn't touch (her). I ask to be allowed to undergo a polygraph test and to be confronted with the girl ... The school was full of people; I didn't even have a private office there."