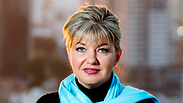 Odelia Carmon
Photo: Yedioth Ahronoth
Women's groups blast Katsav's release
Women's groups all over Israel are lambasting the decision to grant former President and convicted rapist Moshe Katsav early release; 'the decision is outrageous and infuriating and is a slap in the face to the victims of Katsav and all victims of sexual violence.'
A number of women's groups came out Sunday expressing their disapproval of the decision to release former President and convicted rapist Moshe Katsav.
"The parole board made an unfortunate decision that tells women in Israel that we live in Sodom and there is no limit to the disgrace," said Odelia Carmon in response to the decision.
Carmon had previously worked under Katsav when he served as Minister of Transportation and testified to having been sexually harassed by him. She added, "The early release of a convicted rapist, who refuses to acknowledge his crimes, on the same day in which an IDF officer, rabbi, mayor and MK are accused of sexual violence is indicative of the low moral values in the society we live in."
Orit Sulitzeanu, the Director of the Association of Rape Crisis Centers in Israel, also blasted the decision to release Katsav early, saying, "the decision is outrageous and infuriating and is a slap in the face to the victims of Katsav and all victims of sexual violence."
However, while women's groups and activists across Israel are blasting the decision, Katsav's family is celebrating the decision. Lior Katsav, brother of the former President and convicted rapist, said, "We are thrilled with the decision. Thanks be to god and to everyone for their blessings and support. We appreciate it very much."
Katsav served five years of a seven year sentence after being convicted of a variety of sex-related crimes including rape.