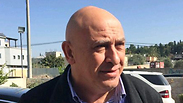 Joint List MK suspected of phone smuggling to Palestinian prisoners
Basel Ghattas, who made headlines for inflammatory comments about Shimon Peres after falling into a coma, is being summoned for questioning by police and the Shin Bet on suspicion of smuggling cell phones to Palestinian security prisoners; Netanyahu: 'If these suspicions are true, he will not be allowed to serve in the Knesset.'
Joint List MK Basel Ghattas is set to be summoned for questioning by the Shin Bet and Israel Police after information surfaced that he has been smuggling cell phones to Palestinian security prisoners to which he has access.

Ghattas, of the Balad Party, responded to the summons for questioning, saying, "it is clear to us that the police have marked Balad and want to harm it politically. Balad has nothing to hide and neither do I, and as such, I will appear for questioning. Such attempts at intimidation will not break the spirit of Balad."

Balad attacked the police, saying, "as part of ongoing political persecution against Balad, its members and leaders, the police have investigated Nibin Abu Rahmon and Basel Ghattas and will set a date for questioning.

"Balad sees the continuation of the investigations, their character and conduct as part of political persecution and a campaign to de-legitimize the activities of the party and damage its imagine in the Arab public. This has been the case with investigations into financial irregularities by the State Comptroller in which the police cruelly arrested 60 members of Balad, including the president and MK Jamal Zahalka and Hanin Zoabi. Remember that everyone was released from detention after being brought to court."

Prime Minister Benjamin Netanyahu issued a statament on the matter. "If these suspicions against MK Ghattas are true, then this constitutes a serious offense against the security of the state and citizens of Israel. Whoever harms state security will be severely punished and will not be allowed to serve in the Knesset."

Minister of Defense Avigdor Lieberman also commented on allegations against MK Basel Ghattas, saying, "Just more proof that the Joint List is a list of spies and traitors. From Azmi Bishara to Basel Ghattas to the Marmara representative Hanin Zoabi and the rest of their friends—we will continue to act so that not only are they no longer part of the Knesset, but so they are not citizens of the State of Israel."

Ghattas has made headlines in the past for joining a Gaza-bound flotilla from Sweden and more recently, for inflammatory comments made after Shimon Peres' death. "Let us remember in his death his true essence as a tyrant," Ghattas said. "He was directly responsible for various atrocities and war crimes which he committed against us…He is completely covered with our blood."