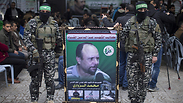 Hamas holds memorial rally for al-Zawahri
Photo: AFP
Tunisia has issued an official statement attributing the assassination of Mohammad al-Zawahri, a Hamas flight engineer who specialized in unmanned aerial vehicles (UAVs), to "foreign elements."

Shortly after Thursday's hit on al-Zawahari, reports poured out alleging that the Mossad—Israel's national intelligence agency—was behind the murder.

"The state is obligated to pursue the criminals involved in the assassination of Mohammad al-Zawahri, whether it is on home or foreign soil, using all legal methods and in accordance with international conventions," the statement read, signalling a warning to whoever was behind taking out al-Zawahri, irrespective of their location.

The statement, which was issued shortly after the Tunisian government convened on Sunday to discuss, inter alia, the ignominy of the assassination to the regime, added that "the government is monitoring the progress of the investigation of the assassination. The investigations reveal the involvement of foreign elements."

Despite going public with their apparent findings, Israel was not explicitly mentioned in the statement.

A demonstration took place in Tunisia on Sunday opposite the Municipal Theater in protest against al-Zawahri's liquidation during which the protesters stamped on Israeli flags as they vented their anger.

Moreover, members of the Hamas military wing in Gaza held a memorial rally for al-Zawahri.

The target's brother claimed in an interview with a Hamas magazine that "The Israeli Mossad had an interest in his assassination. Recently he received threats against his life."

He added that his brother's Russian wife and his mother witnessed his murder. "He worked quietly and there was no sign whatsoever that he was involved in activities of the Palestinian resistance," he insisted.