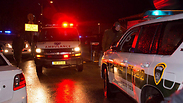 Archive photo
Photo: Police
An Israeli man was lightly wounded in a shooting attack near the settlement of Ofarim in the Binyamin region of the West Bank early Monday.

The terrorists fled the scene and IDF and Shin Bet forces have been searching the area for them.

Security forces are looking into the possibility the shooting was done from a moving vehicle.

The Israeli man came under fire at around 12:45am while driving between Ofraim and the village of Abud.

He was lightly wounded in his face from glass shards but was able to continue driving until he reached a nearby military post.

There, he was given initial treatment by the IDF soldiers and later a team of MDA paramedics took him to the Sheba Medical Center in Tel HaShomer for further treatment.

On Wednesday night, fire was opened at an Israeli car in the same area, near Dayr 'Abu Mash'al and Beit El. No one was hurt but damage was caused to the vehicle.