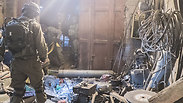 Soldiers in the weapons factory
Photo: IDF Spokesperson's Unit
IDF forces from the Judea and Samaria Brigade seized 15 lathes and other production materials used for making illegal, homemade weapons during a raid in Hebron overnight Sunday.

The materials and secret factory were discovered in a large underground space built beneath a house in southern Hebron.

Video: IDF Spokesperson's Unit (צילום : דובר צה''ל)

An officer in the Judea and Samaria Brigade said the raid is part of an ongoing campaign against illegal weapons production and increased terrorist activity in the West Bank.

Security forces estimate that most of the shooting attacks that occurred within and beyond the Green Line were conducted with weapons produced in the West Bank.

Hundreds of soldiers from various units such as the 890th Paratrooper Brigade, the 77th armored brigade, combat engineers and Border Police took part in the raid.

The IDF is calling the discovery "the biggest weapons factory ever discovered in the West Bank."

Forces discovered more than 100 Carl Gustav m/45 barrels, Russian 7.62 sniper rifles and for the first time, M16 rifle parts with assembly instructions.

During the raid, IDF forces also discovered a large cache of ammunition hidden in one of the walls of the house.

Security forces left Hebron with all the confiscated weapons and the two owners of the factory, a father and son, who were turned over the Shin Bet for questioning.

During an initial field interrogation, the father claimed to be producing farming equipment, until soldiers discovered the large underground plant on the floor below where the man lived with his wife and younger children.