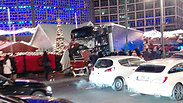 A truck plowed into a crowded Christmas market in the German capital Berlin on Monday evening, killing 12 people and injuring up to 50 others, police said. Authorities are treating the event as a terrorist attack. A suspect believed to have been driving the truck during the attack has been arrested by the police. Another person, who is believed to have been a passenger in the vehicle, has been killed.
Berlin police said on Twitter on Tuesday that investigators assume that the driver of a truck that ploughed into a crowd at a Berlin Christmas market, killing 12 people and injuring 48 others, did so intentionally.
"Our investigators assume that the truck was deliberately steered into the crowd at the Christmas market at Breitscheidplatz," police said.
The market is situated at the foot of the ruined Kaiser Wilhelm memorial church, which was kept as a bombed-out ruin after WWII.
The Berlin Christmas event in the aftermath of the vehicular attack
Germany's justice minister said that federal prosecutors, who handle terrorism cases, are taking over the investigation.
The incident evoked memories of an attack in France in July when Tunisian-born man drove a 19-tonne truck along the beach front, mowing down people who had gathered to watch the fireworks on Bastille Day, killing 86 people. The attack was claimed by ISIS.
The truck careered into the Berlin market at what would have been one of the most crowded times for the Christmas market, when adults and children would be gathering in the traditional cluster of wooden huts that sell food and Christmas goods.
"I heard a big noise and then I moved on the Christmas market and saw much chaos...many injured people," Jan Hollitzer, deputy editor in chief of Berliner Morgenpost, told CNN. "It was really traumatic."
Police cars and ambulances converged quickly on the scene as a huge security operation unfolded. The fate of the driver of the truck was not immediately clear, but Bild newspaper said he was on the run.
Emma Rushton, a tourist visiting Berlin, told CNN the truck seemed to be traveling at about 40 mph (65 Kmh).
Asked how many were injured, she said that as she walked back to her hotel, she saw at at least 10.
Julian Reichelt, editor in chief of Bild Berlin, said that there was currently a massive security operation under way.
"The scene certainly looks like a reminder of what we have seen in Nice," said Reichelt.
In the last few weeks, European sources have warned that ISIS is planning on carrying out terrorist attacks around Christmas, and that open-air markets will be the organization's prime targets. The US has issued similar warnings regarding such markets.
The attack came just hours after the Russian ambassador to Ankara Andrei Karlov was shot in an attack at an art gallery in the Turkish capital.