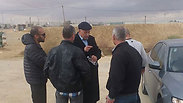 Ghattas outside of Ktzi'ot
MK Basel Ghattas (Joint List) was under police observation for the suspicion he was smuggling cell phones and notes to security prisoners. Recently released photos show MK Ghattas being confronted by police outside Ktzi'ot Prison after he allegedly left the contraband items, which were confiscated soon after.

Security prisoners are prisoners who were convicted of preparing or carrying out terror attacks.

According to police, MK Ghattas arrived at Ktzi'ot Prison in order to visit security prisoners—among them Walid Daka, who murdered IDF soldier Moshe Tamam in 1984—knowing that he would not be subject to a physical search due to his status as a member of the Knesset.

The cell phones and notes were apparently carried in by Ghattas in a bag which was hidden in the side of his coat.

Police attempted to contact Ghattas Monday to no avail. However, later in the day Ghattas' spokesperson confirmed that the MK would indeed appear for questioning, saying, "We did not go underground and we are in contact with police to coordinate a time."

Chairman of the Joint List, MK Ayman Odeh, responded to the events, saying, "The suspicions against MK Ghattas are extremely serious and as such, they need to be clarified by an investigation and not by a field trial. The presumption of innocence exists for every man until they're found guilty and therefore, any attempt to sentence Ghattas is prohibited. We condemn the cynical and ugly attempt to exploit the situation into a campaign of incitement against the Arab public and any attempt to violate the rights and immunity of the members of Knesset. We are waging a just struggle through democratic and legal means will continue to do so."