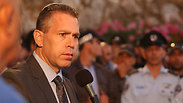 Gilad Erdan
Photo: Gil Yohanan
The Knesset House Committee approved on Tuesday a proposal that would substantially hinder MKs' ability to visit security prisoners. The initiative comes in the wake of the questioning of MK Basel Ghattas (Joint List), who is suspected of smuggling cellular phones and possibly encrypted letters to Palestinian security prisoners.

Ghattas was detained on Monday and was called in for investigation in Lod on Tuesday where he was questioned for four hours. Shorty before entering the building in which he was to be questioned, Ghattas protested his innocence, insisting that he had been the victim of a political witch hunt.

The proposal was submitted by Minister of Public Security, Strategic Affairs and Minister of Information Gilad Erdan (Likud). Erdan has been a vocal proponent of such a move for some time now, calling the standing policy "a developing industry where Arab MKs visit terrorists in their cells." He strongly objected to allowing MKs to sit with convicted terrorists in private and without supervision.




"There isn't another country where elected officials visit terrorists, and to add insult to injury—for political gain," said Erdan. "I hope the Knesset will accept my proposal to stop this ridiculous situation."

Following Erdan's proposal submission, House Committee Chairperson Yoav Kisch (Likud) called for an immediate meeting.

The committee determined that such visits of security prisoners by MKs constitute encouragement and support of the prisoners, in addition to supporting those who sent them to carry out acts of terror and the actions themselves. The committee further stated that security prisoners do not enjoy the benefits of immunity granted to MKs due to the harm that visiting them could cause to state security, according to security services. Indeed, MKs are not required to undergo checks or searches when visiting prisoners.

The accepted proposal stipulates that from now on, MKs who wish to visit security prisoners will have to coordinate them with the Knesset speaker, House Committee chairperson and State Control Committee chairperson.

Another change from the current protocol will be the identity of those MKs allowed to make such visits. According to the new policy, only certain members of the coalition and the opposition will be permitted to visit security prisoners, with the intent of verifying that the humanitarian conditions of their detention are being upheld.

Moreover, the committee declared that representatives of the coalition and opposition who will henceforth be permitted to make such visits will be physically searched, based on the belief that national security must take precedence over MK immunity when considering these visits.

Ghattas cooperated fully with those questioning him, answering all questions put forth. He insisted that he had committed no crimes connected with state security or its civilians as is currently being claimed. He also added that he never had any intention of ever doing so. "I go out with my head raised high," said Ghattas before entering the police station. "This is all a political witch hunt."

"Everything is alright. We have gotten used to investigations of these sorts. It is all intended to harm our struggle. The moment I leave the investigation, I will explain things clearly," he added.