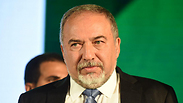 Avigdor Lieberman
Photo: Yair Sagi
Defense Ministry eyes new ground-to-ground missiles
Military source says missiles, with a range of more than 200km, equipped with 500kg warheads, could costs as much as NIS 3 million; 'We will be able to respond in ways we have never responded before.' Lieberman voices opposition to slashing IDF mandatory service, hopes to 'turn wheel backward.'
A security official said Tuesday that the Defense Ministry is currently undertaking strenuous efforts to acquire ground-to-ground missiles with a firing range of more than 200 kilometers, equipped with warheads weighing between 450kg and 500kg which could be used in the northern sector.

According to the official, the move has been met with opposition from officials in the IDF since it will necessitate the allocation of financial budgets earmarked for the Air Force to the bodies tasked with operating the rockets.

"A heavy rocket with warheads of 500kg can cost as much as NIS 3 million," the official explained. "There are all kinds of rockets starting with a range of 30km to 250km so it is also a budgetary matter. The change stems from changes in the nature of operations in the north and from the need to increase capabilities to respond in ways in which we have not responded before."

Leaving the rockets to one side, Defense Minister Avigdor Lieberman voiced his own opposition to truncating the mandatory service by IDF soldiers. After studying the ramifications of such a move, Lieberman said that he had concluded that "this is a cut that cannot be coped with."

He went on to say that he hoped that at the beginning of 2017, the subject would be reopened for discussion with the finance minister, "with the intention of turning the wheel backward so that soldiers, at least those in combat units, will serve for a period of 36 months."

In early December, the Knesset Foreign Affairs and Defense Committee approved second and third readings for a shortening of compulsory military service for IDF soldiers to 30 months set to begin in 2020. As of last year, all males drafted for mandatory military service began serving 32 months, instead of three years.

The source added that in recent days, efforts have been made to enlist soldiers into special forces units for a period of four years to be signed in advance to mitigate the shortcomings caused by the shortened service time.

"This way these soldiers will know exactly where they are going and that their service will include extended military service with salaries provided accordingly," he said. "This will contribute to greater professionalism and experience on the part of the soldiers. There is no other choice."

Turning to Israel's enemies in the north and the south, the source said that a number of terror organizations—mainly ISIS—are trying to lay their hands on unconventional weapons such as chemical weapons from bunkers and weapons depots abandoned by President Assad's forces in Syria.