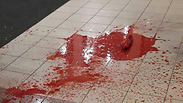 Neo-Nazis throw pig's head, fake blood on Jews
Group of skinheads entered compound of Rabbi Nachman of Breslov's gravesite, screamed anti-Semitic slurs in Russian, threw a pig's head bearing a swastika into the room, drenched it with fake blood and sprayed worshippers with tear gas before fleeing; 'It was so scary. We are all still in shock.'
Another anti-Semitic attack took place in Europe overnight Tuesday when the grave of Rabbi Nachman of Breslov in Ukraine was defaced with a pig's head and drenched in fake blood. Jewish woshippers at the site were sprayed with tear gas.

The individuals responsible for the offense arrived at the gravesite complex of Rabbi Nachman—the influential 18th century Hassidic leader who preached mystical teachings of Judaism—and screamed anti-Semitic slurs before hurling a pig's head, atop which a swastika had been etched, into the room containing worshippers.

Anti-Semitic incident in Ukraine

By Wednesday morning, no one had been arrested for the attack but those praying at the site during the incident were grateful that the attack was not accompanied by more physical violence. "We were saved thanks to the kindness of heaven," said one of the worshippers.

The incident took place in the large building in the tomb compound at around 2am when a pack of skinheads entered and began shouting racist remarks in Russian at the Jewish worshippers, who managed to capture the harrowing images on their cellphone cameras.

After throwing the pig's head into the room, the group began throwing fake blood on the worshippers before fleeing the scene. Police were called moments later.

"It was so scary," said one of the workers at the site. "We have already suffered anti-Semitic incidents but this time it crossed the line and we are all still in shock. We began cleaning the place. As far as I know, no one involved has been arrested."

In an interview with Ynet, the manager of the compound, Rabbi Elhadad, recalled the details of the chilling incident. "A group of Nazis came to the place. One of them entered and scoured the place. We thought maybe he wants to pray because sometimes foreigners also come and pray there," he said. "After about a minute, two of them came in with bottles of paint and started spraying the worshippers with tear gas."

Two Israelis who were at the site had to receive medical treatment in hospital, he said.