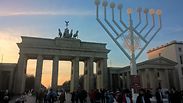 A Menorah is set up in front of Berlin's Brandenburg Gate
Photo: Alon Goichman
The Jewish holiday of Hanukkah begins the night of December 24 and lasts for eight days, and if you're traveling or vacationing during the holiday, there may be a menorah lighting near you. The Chabad-Lubavitch organization, which operates Jewish centers around the world, plans to hold public menorah lightings and Hanukkah events in hundreds of cities and more than 90 countries.
Among these sites, Hanukkah celebrations will be held in Revolution Square in Moscow, at Berlin's Brandenburg Gate, at the Eiffel Tower in Paris and in Trafalgar Square in London, with many more in other world capitals.
Among noteworthy events in the US, there will be menorah lightings at NBA and NHL games, including the Brooklyn Nets, New York Islanders, Orlando Magic and Golden State Warriors. In New York City, a massive menorah will be lit nightly near the Plaza Hotel and the entrance to Central Park. Nightly lightings will also take place in San Francisco's Union Square.
In front of the White House, a menorah will be lit nightly. Miami's Gulfstream Park will host a menorah lighting Tuesday. And in Albuquerque, New Mexico, a Hanukkah celebration on Saturday night will include lining up hot air balloons in the shape of a menorah.
There will also be menorah lightings at ski resorts in Vail, Colorado, and Jackson Hole, Wyoming, and a public menorah lighting on Main Street in Park City, Utah.
Those heading to the Caribbean for the holiday week will find menorah lightings in Cancun, Mexico, on the island of Aruba and in other destinations.