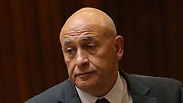 MK Basel Ghattas
Photo: Alex Kolomoisky
Knesset Speaker Yuli Edelstein has announced the official removal of MK Basel Ghattas's (Joint List) parliamentary immunity after the latter agreed to relinquish it, leading the police to question him again on Thursday evening.
Ghattas is currently under investigation by police for allegedly smuggling cell phones to terrorists sitting in prison.
The Knesset's House Committee on Wednesday approved Attorney General Avichai Mandelblit's request to strip Ghattas of his Knesset immunity. With immunity gone MK Ghattas will be able to be arrested.
The attorney general wrote that "after MK Ghattas passed envelopes to a security prisoner in jail, and after the security prisoner attempted to conceal the envelopes on his person, the envelopes were confiscated by the prison service, whereupon 12 cell phones and 16 SIM cards, two cell phone batteries, and headphones were found."
Mandelblit said that Ghattas denied passing anything to the prisoner. It was only after he was shown security camera footage of himself passing the envelope to the prisoner that the MK admitted to his deeds. However, he claims that he had no idea what was in the envelopes, and claims that he was only giving the prisoner political literature.
In response to the committee's decision, the Arab MK wrote to the Knesset speaker, saying that the steps taken against him are unprecedented. "(The attorney general) asked the committee to remove my immunity from search and arrest, something that the attorney general has never asked any other MK to do. This includes cases whereby MKs were being investigated for crimes such as corruption, rape, and even worse allegations."
"There is no doubt that this extreme step's timing and nature is being done in conjunction with the harsh voices coming from the Knesset House Committee, which casts serious concern on the attorney general's double standards," MK Ghattas continued.
He accused the House Committee of being "militant and political as was expected, and didn't focus on the issue."