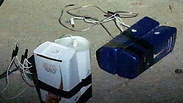 Explosive devices ready to use seized by the Shin Bet
Photo: Shin Bet
The Shin Bet has uncovered a terror cell of more than 20 Hamas members from across the West Bank who planned suicide bombings in large Israeli cities, it was cleared for publication on Thursday.

The cell operated in the Nablus area and recruited four suicide bombers who were supposed to carry out attacks in crowded locations in Haifa, Jerusalem and different bus stops.

Israeli forces arrest members of the cell (צילום: דובר צה"ל)

Most of the arrested cell members have served time in Israeli prison in the past for their involvement in terror activity against Israel.

In their questioning, the suspects revealed that between May to August 2016, they set up an explosives workshop in Nablus, where they produced some 7kg of TATP explosive material. They used that material to build bombs for their planned attacks.

The members of the cell also bought M16 assault rifles with the aim of carrying out shooting attacks against Israeli citizens.

The terrorists received support from a wide network of accomplices that aided them in different areas: producing and hiding the explosives, purchasing and hiding weapons, transferring money to fund this activity, and hiding wanted suspects.

The terror cell was exposed after months of work by the Shin Bet, in cooperation with the IDF and the Judea and Samaria Police Department.

Upon arresting the suspects, the Israeli security forces seized several explosive devices that were ready for use, additional explosive materials, materials used to make explosives, and M16 rifles.

"The Shin Bet investigation unearthed a well-organized, structured Hamas cell. Had it not been discovered, it would have carried out grave terror attacks. Thanks to excellent intelligence and operational activities of Shin Bet and IDF forces, the cell was discovered in time," a senior Shin Bet official said.

"This investigation reveals, once again, the efforts that Hamas is investing into creating terror infrastructure in Judea and Samaria to carry out attacks against Israelis."