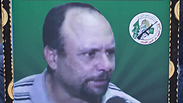 A Hezbollah official responsible for managing relations with other Arab countries, Hassan Az a-Din spoke Thursday to the mother and brother of Mohammad al-Zawahri, a flight engineer who was shot to death last week at close range in his car in the city of Sfax, telling them that Israel was definitely responsible for his murder.

"We hold the enemy, Israel responsible. Its fingerprints are clear in this criminal act," a-Din said. Al-Zawahri is believed to have worked both for Hamas and Hezbollah, the Lebanese-based terror movement.

Despite the murder, al-Din emphasized that the path of Jihad would be continued, as would resistance against Israel, "whatever the sacrifices." Moreover, he called on al-Zawahri's brother and friends to follow in the same path as the fallen martyr.

Another official from the Shi'ite organization even warned of Israeli plans beyond its borders which have been formulated with the intention of striking the Arab and Islamic nation in its own homeland before calling on the government, political parties and the nation as a whole to act responsibly and oppose the alleged Israeli plan.

The hit against al-Zawahri has largely been attributed to Israel. Indeed, last week Tunisian media outlets said that the Mossad was responsible. Moreover, the Tunisian Interior Minister convened a press conference on Monday where he claimed that there is evidence supporting the notion of involvement of a foreign organization in the murder and vowed to mete out justice whether those responsible were inside or outside Tunisia.