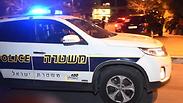 A 50-year-old man was lightly wounded in a stabbing attack outside his home in Efrat on Friday night.

The wounded man told authorities a terrorist stabbed him and fled the scene shortly after. The man sustained stab wounds in the back and neck.

MDA paramedics provided treatment to the man before transporting him to Shaare Zedek Medical Center in Jerusalem.

IDF forces were called to the scene and have begun searching the area for the suspect.

Initial investigations suggest that the terrorist entered Efrat via a vineyard located at the southeast of the community.