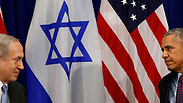 Netanyahu (L) and Obama
Photo: Reuters
Netanyahu rejects UN resolution, Obama admin. reiterates support of 2-state solution
Netanyahu says Israel will not abide by resolution; US Ambassador to UN Susan Power: 'US has been sending the message that the settlements must stop—privately and publicly—for nearly five decades'; Palestinian official hails 'victory for international law.'
World and local leaders and officials have begun to respond to the UN Security Council's adopting a resolution demanding an end to Israeli settlement building on Friday. Even more specifically, though, have been reactions to United States abstaining from the vote and defying heavy pressure from long-time ally Israel and US President-elect Donald Trump for Washington to use its veto.
A US abstention paved the way for the 15-member council to approve the resolution, with 14 votes in favor, prompting applause in the council chamber. The action by US President Barack Obama's administration follows growing US frustration over the unrelenting construction of Jewish settlements on land Palestinians want for a future independent state.
UN resolution vote
Following the passing of the resolution, Prime Minister Benjamin Netanyahu issued a statement, saying that "Israel rejects this shameful anti-Israel resolution at the UN and will not abide by its terms. At a time when the Security Council does nothing to stop the slaughter of half a million people in Syria, it disgracefully gangs up on the one true democracy in the Middle East, Israel, and calls the Western Wall 'occupied territory'."
Netanyahu added that he looks forward to working with President-elect Trump as well as with pro-Israeli members of Congress to reverse the damages of the "absurd" decision.
After the vote, Netanyahu instructed Israel's ambassadors in New Zealand and Senegal to return to Israel for consultations. He also ordered the cancellation of a planned visit to Israel by Senegal's foreign minister and the cancellation of all aid programs to Senegal.
White House: Netanyahu could have stopped resolution but chose not to
White House Deputy National Security Adviser Ben Rhodes was quoted as saying that Netanyahu had ample opportunity to promote a policy that would have prevented the US abstention and refusal to veto, but that while he talks about a two-state solution, he actions make such a step unattainable.
Netanyahu criticized both Obama and US Secretary of State John Kerry as being behind the resolution, together with the Palestinians. Kerry responded to the decision by stating that the Security Council is right to admonish Israel for its incitement and activity in the settlements. He called upon both sides to work toward a two-state solution.
The resolution demands that Israel "immediately and completely cease all settlement activities in the occupied Palestinian territory, including East Jerusalem" and said the establishment of settlements by Israel has "no legal validity and constitutes a flagrant violation under international law."
An additional clause that has raises concern reflects the rhetoric of the BDS movement, by calling other countries to differentiate between business deals made with the State of Israel and those made with parties beyond the 1967 border, while referring to "the Israeli occupation."
The resolution's rejection of the settlement project and its expansion could contextualize Israel as an "apartheid state," similar to how South Africa was seen. This in turn could lead to Israel and Israeli officials involved in the settlement project beign sued in the International Court of Justice in Hague, the Netherlands, in addition to having sanctions placed on Israel.
The US action just weeks before Obama ends eight years as president broke with the long-standing American tradition of vetoing similar resolutions against Israel, which receives more than $3 billion in annual US military aid, from such action. The United States, Russia, France, Britain and China have veto power on the council.
The resolution, put forward by New Zealand, Malaysia, Venezuela and Senegal a day after Egypt withdrew it under pressure from Israel and Trump, was the first adopted by the council on Israel and the Palestinians in nearly eight years.
The US abstention is seen as a parting shot by Obama, who has had an acrimonious relationship with Netanyahu and whose efforts to forge a peace agreement based on a "two-state" solution of creating a Palestinian state existing peacefully alongside Israel have proven futile.
Speaking during a discussion that followed the vote US Ambassador to the United Nations Samantha Power gave a statement.
"Let me begin with a quote: 'The United States will not support the use of any additional land for the purpose of settlements during the transitional period. Indeed, the immediate adoption of a settlement freeze by Israel, more than any other action, could create the confidence needed for wider participation in these talks. Further settlement activity is in no way necessary for the security of Israel and only diminishes the confidence of the Arabs that a final outcome can be freely and fairly negotiated.'"
The quote, originally said by Ronald Reagan, illustrated in Power's opinion "the United States' deep and long-standing commitment to achieving a comprehensive and lasting peace between the Israelis and Palestinians. That has been the policy of every administration, Republican and Democrat, since before President Reagan and all the way through to the present day."
Power continued to say that Reagan's words also "highlight the United States' long-standing position that Israeli settlement activity in territories occupied in 1967 undermines Israel's security, harms the viability of a negotiated two-state outcome, and erodes prospects for peace and stability in the region. Today, the Security Council reaffirmed its established consensus that settlements have no legal validity. The United States has been sending the message that the settlements must stop—privately and publicly—for nearly five decades."
Power stressed that refraining from exercising its veto was far from simple for the US, largely because of the discrimination that Israel has faced at the UN. "The simple truth is that for as long as Israel has been a member of this institution, Israel has been treated differently from other nations at the United Nations. And not only in decades past—such as in the infamous resolution that the General Assembly adopted in 1975, with the support of the majority of Member States, officially determining that, 'Zionism is a form of racism'—but also in 2016, this year. One need only look at the 18 resolutions against Israel adopted during the UN General Assembly in September; or the 12 Israel-specific resolutions adopted this year in the Human Rights Council—more than those focused on Syria, North Korea, Iran, and South Sudan put together—to see that in 2016 Israel continues to be treated differently from other Member States."
"Like US administrations before it, the Obama Administration has worked tirelessly to fight for Israel's right simply to be treated just like any other country—from advocating for Israel to finally be granted membership to a UN regional body, something no other UN Member State had been denied; to fighting to ensure that Israeli NGOs are not denied UN accreditation, simply because they are Israeli, to getting Yom Kippur finally recognized as a UN holiday; to pressing this Council to break its indefensible silence in response to terrorist attacks on Israelis. As the United States has said repeatedly, such unequal treatment not only hurts Israel, it undermines the legitimacy of the United Nations itself."
She emphasized the necessity of the UN acknowledging crimes committed against Israel and its citizens as the bedrock for universal justice, especially in light of the current resolution. "Member States that say they are for the two-state solution must ask themselves some difficult questions. For those states that are quick to promote resolutions condemning Israel, but refuse to recognize when innocent Israelis are the victims of terrorism—what steps will you take to stop treating Israel differently?"
"For those states that passionately denounce the closures of crossings in Gaza as exacerbating the humanitarian situation, but saying nothing of the resources diverted from helping Gaza's residents to dig tunnels into Israeli territory so that terrorists can attack Israelis in their homes—what will you do to end the double-standard that undermines the legitimacy of this institution?"
"Member States should also ask themselves about the double standards when it comes to this Council taking action." said Power. "Just this morning we came together, as a Council, and we were unable to muster the will to act to stop the flow of weapons going to killers in South Sudan, who are perpetrating mass atrocities that the UN has said could lead to genocide. We couldn't come together just to stem the flow of arms. Earlier this month, this Council could not muster the will to adopt the simplest of resolutions calling for a seven-day pause in the savage bombardment of innocent civilians, hospitals, and schools in Aleppo. Yet when a resolution on Israel comes before this Council, members suddenly summon the will to act."
Regarding Israel's continued expansion of the settlements Power stated, "One cannot simultaneously champion expanding Israeli settlements and champion a viable two-state solution that would end the conflict. One has to make a choice between settlements and separation."
Quoting Prime Minister Benjamin Netanyahu and Bayit Yehudi Leader Naftali Bennett, Power stressed the centrality of the settlement issue to the peace process.
"The Israeli Prime Minister recently described his government as 'more committed to settlements than any in Israel's history,' and one of his leading coalition partners (Naftali Bennett—ed) recently declared that 'the era of the two-state solution is over.' At the same time, the prime minister has said that he is still committed to pursuing a two-state solution. But these statements are irreconcilable. One cannot simultaneously champion expanding Israeli settlements and champion a viable two-state solution that would end the conflict. One has to make a choice between settlements and separation."
"In 2011, the United States vetoed a resolution that focused exclusively on settlements, as if settlements were they only factor harming the prospects of a two-state solution. The circumstances have changed dramatically. Since 2011, settlement growth has only accelerated. Since 2011, multiple efforts to pursue peace through negotiations have failed. And since 2011, President Obama and Secretary Kerry have repeatedly warned—publically and privately—that the absence of progress toward peace and continued settlement expansion was going to put the two-state solution at risk, and threaten Israel's stated objective to remain both a Jewish State and a democracy."
"Let us be clear," added Power. "Even if every single settlement were to be dismantled tomorrow, peace still would not be attainable without both sides acknowledging uncomfortable truths and making difficult choices. That is an indisputable fact. Yet it is one that is too often overlooked by members of the United Nations and by members of this Council."
"For Palestinian leaders, that means recognizing the obvious: that in addition to taking innocent lives—the incitement to violence, the glorification of terrorists, and the growth of violent extremism erodes prospects for peace, as this resolution makes crystal clear. The most recent wave of Palestinian violence has seen terrorists commit hundreds of attacks—including driving cars into crowds of innocent civilians and stabbing mothers in front of their children. Yet rather than condemn these attacks, Hamas, other radical factions, and even certain members of Fatah have held up the terrorists as heroes, and used social media to incite others to follow in their murderous footsteps. And while President Abbas and his party's leaders have made clear their opposition to violence, terrorism, and extremism, they have too often failed to condemn specific attacks or condemn the praised heaped upon the perpetrators."
Nearing the end of her speech, Power said that "Israelis are rightfully concerned about making sure there is not a new terrorist haven next door. President Obama and this administration have shown an unprecedented commitment to Israel's security because that is what we believe in."
Obama also faced pressure from US lawmakers, fellow Democrats as well as Republicans, to veto the measure, and was hit with bipartisan criticism after the vote.
Trump, who takes office on Jan. 20, took the extraordinary step by a US president-elect of personally intervening in a sensitive foreign policy matter before taking office, speaking by telephone with Netanyahu and Egyptian President Abdel Fattah al-Sisi before Egypt, another major US aid recipient, dropped the resolution.
Trump wrote on Twitter after the vote, "As to the UN, things will be different after Jan. 20th."
Rhodes dismissed Trump's thinly-veiled criticism of the move. Responding to questions regarding the seemingly conflicting positions that the outgoing and incoming presidents have regarding US-Israel relation, Rhodes said, "There is one president at a time," stating that until Jan. 20 the US president is Barack Obama.
Outgoing UN Secretary-General Ban Ki-moon welcomed the resolution. Russian UN Ambassador Vitaly Churkin called on Israel to "respect international law."
The White House said that in the absence of any meaningful peace process, Obama made the decision to abstain. The last round of US-led peace talks between the Israelis and Palestinians collapsed in 2014. The Palestinians want an independent state in the West Bank, Gaza and East Jerusalem.
"We could not in good conscience veto a resolution that expressed concerns about the very trends that are eroding the foundation for a two-state solution," Rhodes said.
American UN ambassador Samantha Power said the United States did not veto it because the resolution "reflects the facts on the ground and is consistent with US policy across Republican and Democratic administrations."
Successive US administrations of both parties have criticized settlement activity, while the Obama administration has called settlement expansion an "illegitimate" policy that has undermined chances of a peace deal.
The Security Council last adopted a resolution critical of settlements in 1979, with the United States also abstaining.
The passage of Friday's resolution changes nothing on the ground between Israel and the Palestinians and may very well be ignored by the incoming Trump administration. It could, however, go beyond mere symbolism, by further spurring Palestinian moves against Israel in international forums.
Palestinians say UN move 'big blow' to Israel policy
The UN action was "a big blow to Israeli policy, a unanimous international condemnation of settlements and a strong support for the two-state solution," a spokesman for Palestinian President Mahmoud Abbas said in a statement published by the official Palestinian news agency Wafa.
"This is a day of victory for international law, a victory for civilized language and negotiation, and a total rejection of extremist forces in Israel," said Chief Palestinian Negotiator Saeb Erekat.
Israel's UN ambassador, Danny Danon, said he had no doubt the incoming Trump administration and Ban's successor as UN chief, former Portuguese prime minister Antonio Guterres, "will usher in a new era in terms of the UN's relationship with Israel."
Jordan Government Spokesperson Mohammad Al Momani also responded to the UN resolution, calling "a historic decision." Al Momani said that it reflected the international community's agreed view that the Israeli settlements are illegal, as well as highlighting the Palestinian people's right to its land in Jerusalem and historic land, while supporting a two-state solution.