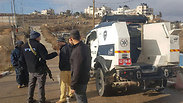 Scene of attack
Photo: TPS
A drive-by shooting took place on Sunday morning as terrorists fired rounds in the direction of the Beit El settlement adjacent to Ramallah. No injuries damage were immediately reported in the attack.

A number of ammunition shells were located at the scene as security forces combed the area in pursuit of the terrorists who fled shortly after committing the attack.

In the last two weeks, a number of shooting attacks have taken place in the West Bank. Last Monday, an Israeli bus was hit by live rounds in the Judean mountains near Talmon. There were no passengers in the bus , and no injuries were reported.

Twenty-four hours beforehand, an Israeli citizen was lightly wounded in another shooting attack Beit Aryeh-Ofarim in the Binyamin region. In this case too, the terrorists managed to escape from the scene. The dIsraeli driver suffered shrapnel wounds in his face and continued driving until he reached a military pillbox nearby.

Two-and-a-half weeks ago, a shooting attack took place when shots were fired at an Israeli vehicle near the Palestinian village of Deir Abu Mash'al near Beit El. While no one was injured in the attack, the vehicle was damaged.