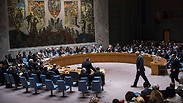 UN Security Council
Photo: AP
Prime Minister Benjamin Netanyahu instructed Sunday that ambassadors to Israel from countries that supported Friday's contentious UN Security resolution against Israeli settlements be summoned to be reprimanded, including US Ambassador to Israel Dan Shapiro.

Ambassadors from 10 of the 14 countries that voted in favor of the resolution and have embassies in Israel - Britain, China, Russia, France, Egypt, Japan, Uruguay, Spain, Ukraine and New Zealand - were summoned to the Foreign Ministry in Jerusalem, the ministry said.

The other ambassadors were summoned to the Foreign Ministry despite the fact that Sunday is a non-working day for them and despite the fact that it is Christmas. However, given the festive period, some of the ambassadors will be represented by their subordinates.

While the other ambassadors will be reprimanded by high-ranking officials in the Foreign Ministry, Shapiro will meet with Netanyahu.

Netanyahu also told cabinet ministers that he will not meet with British Prime Minister Theresa May during the World Economic Forum Annual Meeting in Davos next month. Netanyahu has not actually scheduled a meeting with May.

The prime minister also instructed his cabinet members not to meet with representatives from countries that supported the resolution and avoid traveling to these countries.

As part of one of the retaliatory measures since the adoption of the resolution, Defense Minister Avigdor Lieberman instructed the IDF on Sunday morning and the Coordinator of Government Activities in the Territories (COGAT) to halt all state-civil activities with their counterparts in the Palestinian Authority.

The move however, does not signal a termination of security and committee cooperation.

During a Likud party forum meeting held shortly before a special cabinet security-diplomatic meeting which is scheduled to be held in the afternoon, Netanyahu reiterated his criticism of the resolution, and pointed the finger squarely at President Obama. "I have no doubt that the Obama administration initiated the decision and stands behind it."

He also enjoined the ministers to act responsibly and with coolheadedness, lest their public declarations about annexation provoke further maneuvers until President Obama leaves office on January 20 next year.

Israel's remonstrations aside, senior Palestinian official Saeb Erekat welcomed the resolution.

Speaking to ynet on Saturday night, he accused Netanyahu of "continuing with his political blindness and arrogance of power."

"Israel has a prime minister who believes that ignoring us means we don't exist and he just wants to defy the international community … He wants to confiscate their land, steal their water, dictate their lives, plan for them, subjugate them and then he wants us to pray to God and thank him for being under Israeli occupation," he continued. "This was a unanimous decision by the by the international community yesterday telling Israel and Netanyahu that enough is enough. It was a wake-up call."

Itamar Eichner, Moran Azulay, Omri Efraim, Itay Blumental, Attila Somfalvi and Elior Levy contributed to this report.