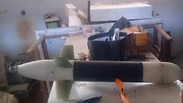 Al-Zawahri's underwater missile
Chief Hamas engineer Mohammad al-Zawahri, who was killed in Tunisia earlier this month, was reportedly working on drones and "remote-controlled submarines" for the Islamic terror group. A TV station in Tunisia recently aired footage allegedly presenting these projects.

Talk show Labes aired photos from al-Zawahri's lab with host Rashed al-Hiyari claiming one of them shows remote-controlled "submarines" developed by the Tunisia engineer.

A guest on the show claimed these "submarines," that appear to be underwater missiles, will help win the next naval battle against Israel.

Al-Hiyari also showed a photo of a small red drone he said was built by al-Zawahri. "The unnamed aerial vehicle that flew over Tel Aviv during the last war (Operation Protective Edge) was manufactured in Tunisia by al-Zawahri. Hamas only added the outside white layer," he claimed.

"Israel knew he was a real threat and that is why it assassinated him," al-Hiyari said of al-Zawahri. "There was a failed attempt to assassinate him several months ago as well."

Al-Zawahri was assassinated earlier this month at his home in Safx when at least two assassins ambushed him and shot him dozens of times.

Many in the Arab world were quick to point a finger at Israel, blaming the Mossad, while Hamas confirmed al-Zawahri was a member of the organization and that his assassination was similar to another one attributed to Israel - that of Mahmoud al-Mabhouh in Dubai.

According to foreign sources, al-Zawahri helped Hamas develop drones and improve upon them for years and his close associates said he even managed to get into the Gaza Strip through the tunnels to train Hamas fighters on how to operate the drones.